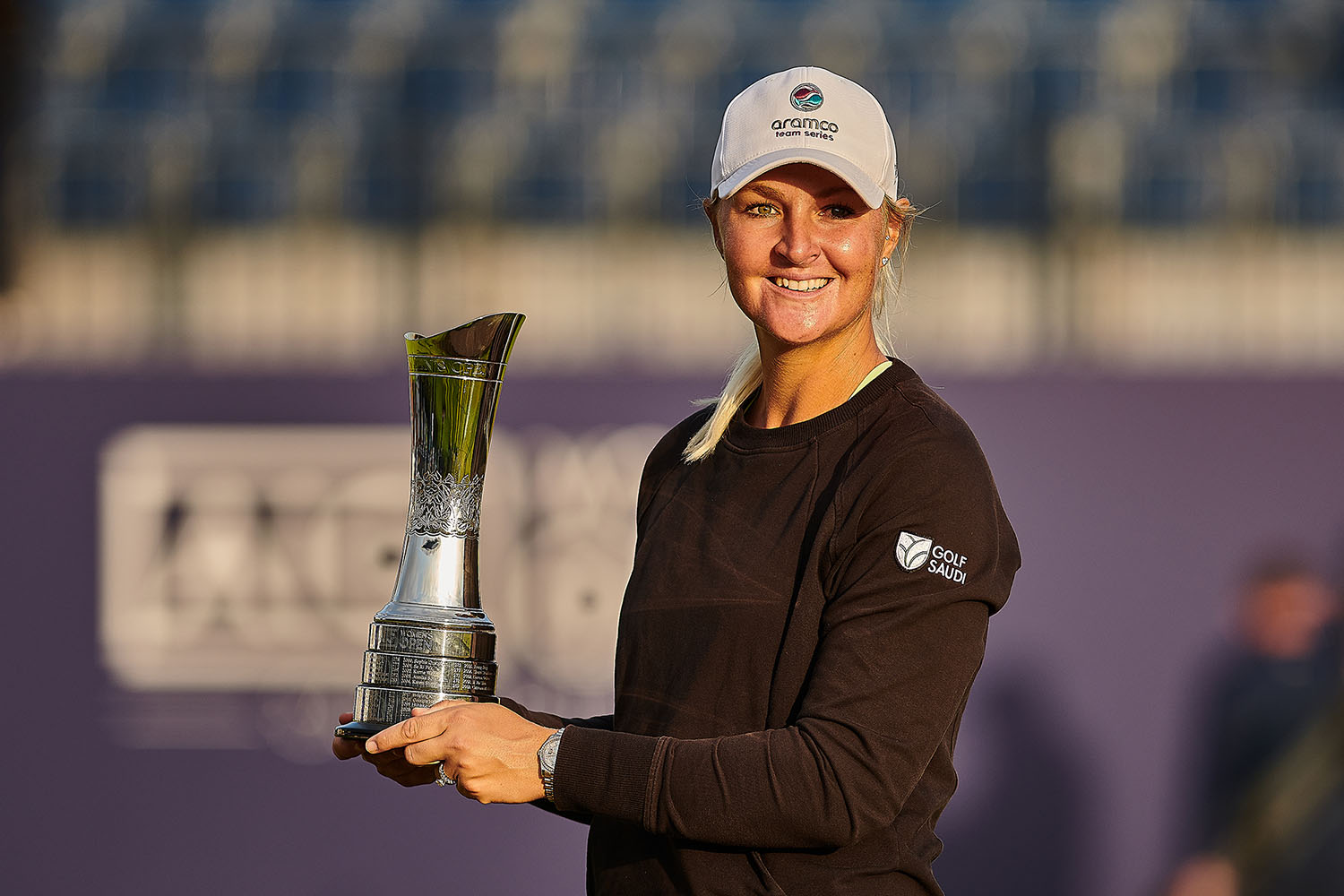 AIG Women's Open 2021 – Carnoustie Golf Links
Between 19th and 22nd August 2021 Carnoustie proudly played host to The AIG Women's Open for the second time in 10 years, with the previous Championship being played over the famous Links in 2011.
Not only has this Championship quickly grown to become the most international Major in women's golf, it is also one of the most sought-after prizes in the industry.
The 45th edition of the Championship saw Carnoustie invite the very best women golfers in the world to battle it out over Golf's Greatest Test in an exciting week days of wonderful golf.
Those who took on the challenge included Georgia Hall, Hinako Shibuno, and Danielle Kang who are true ambassadors of the game and continue to drive women's golf forward together.
Included in this list was defending AIG Women's Open champion, Sophia Popov, who after her memorable win in 2020 continues to inspire women and girls across the world as she looked to defend her title at Carnoustie, where she made her Women's British Open debut.
It was with great delight that after a stunning 65 on the Saturday, Anna Nordqvist held her nerve in a thrilling final round to shoot 69 and triumph by one shot over Georgia Hall.
Speaking during her prize giving, Anna said "Carnoustie is such a great venue and it's been one of my favourites since I played here in 2011, and for us to be able to come back here I think is amazing and hopefully it's not the last time the British Open comes back here."
Carnoustie has real ambitions to grow and elevate the game of golf, demonstrated by the almost 300 children taking part in The Carnoustie Craws golf development programme every week. Hosting the AIG Women's Open at Carnoustie provides another opportunity to showcase one of golf's leading events at a truly inclusive venue looking to see the game of golf thrive and be enjoyed by new generations.
Find out more about the championship
www.aigwomensopen.com
Women's British Open 2011 – Carnoustie Golf Links
Yani Tseng won the Championship title the last time it was held at Carnoustie in 2011.
Tseng consolidated her reputation as the world's finest woman golfer when she closed with a three under par 69 to win.
The World No. 1, at the time, from Taiwan put together rounds of 71, 66, 66 and 69 to finish four shots ahead of America's Brittany Lang on 12 under par 272 and claim the £239,047 first prize. Sophie Gustafson, from Sweden, closed strongly with a fine four under par 68 to finish on 277 while Korea's Amy Yang carded a battling five under par 67 to claim fourth place on ten under par 278.
The top home challenger was Carnoustie Country ambassador, Catriona Matthew, the 2009 Champion, who dropped two shots at the 72nd hole but still claimed a share of fifth place alongside third round leader, Caroline Masson on 279.
The Smyth Salver, awarded to the leading amateur, was won by 2010 US Women's Amateur champion, Danielle Kang, who closed with a level par 72 to finish nine shots ahead of 2010 European Women's Amateur champion, Sophia Popov, from Germany, on two over par 290.
Tseng started the final round two shots behind Masson and was momentarily three shots in arrears when she took five on the 394-yard par-4 opening hole. However, she drew level when the German dropped two shots on the 320-yard par-4 third and then forged ahead with birdies at the sixth and 11th.
Even back-to-back bogeys at the 12th and the 13th, the latter after her tee shot had struck the pin and ricocheted off the green, did not deter her as she cruised home with birdies on the 14th, 17th and 18th.
Tseng's win was her second in-a-row at the Championship and was also her fifth Major victory in a glorious 37-month spell stretching back to the LPGA Championship in 2008.
The previous month, the Taiwanese player won her second LPGA title by a remarkable 10 shots to become the youngest woman player to win four Majors at the tender age of 22 years, 5 months and 3 days. Now, after her success at Carnoustie, it looks like being only a matter of time before she hones in on Annika Sorenstam's haul of 10 Majors, which was completed when the great Swede captured her third and last US Women's Open at Newport Country Club in 2006.
Tseng admitted she was nervous before her round but soon settled into producing the sort of metronomic golf that has characterised her play over the last few years.
"I was very nervous before we started, my stomach was hurting," she admitted. "Normally, when I come from behind, I don't feel nervous, but today was different.
"Last year helped a lot, though. I felt like I was able to learn from my mistakes. I think I have done really well to be patient and to control the whole round today.
"This feels very special," she added. "I am very happy and very appreciative. I mean it's wonderful, especially winning on this golf course, in the Home of Golf. It's an honour for me to be part of this. I did a really good job and I'm very proud of myself."
The new champion was one of a large number of competitors who lavished praise on the Championship course during a week bless with tranquil weather.
"I love this course. I love links golf and this is a great place to play it," said Tseng.
"There are so many ways to play it. You can be aggressive, you can play safe, you can hit driver or you can hit iron. You need so much creativity on this golf course. But, above all else, you need to be patient. I'm just so excited to be here."
Suzann Pettersen, Europe's highest ranked player, was equally effusive about the course
"Of all the links I have played the British Open on, I think this is my favourite," she said." I think it's a very fair course. It's a great test of golf."
"Carnoustie is definitely one of the top five courses I have played," proclaimed England's Melissa Reid. "You need to drive well because, if you can do that, you can eliminate a lot of the trouble. I think it's a terrific course and it's also in superb condition."
"I had heard a lot about Carnoustie before I got here and it has certainly lived up to my expectations," said former teenage sensation, Michele Wie. "It's very interesting and it has got a lot of character. In fact, I'd say it's unique."
"I love this golf course," agreed Wie's compatriot, Paula Creamer, "It's by far one of the best links courses I have played. It's hard, but it's fair. I think it tests every aspects of your game. You have to hit all kinds of shots, and that's what I like."