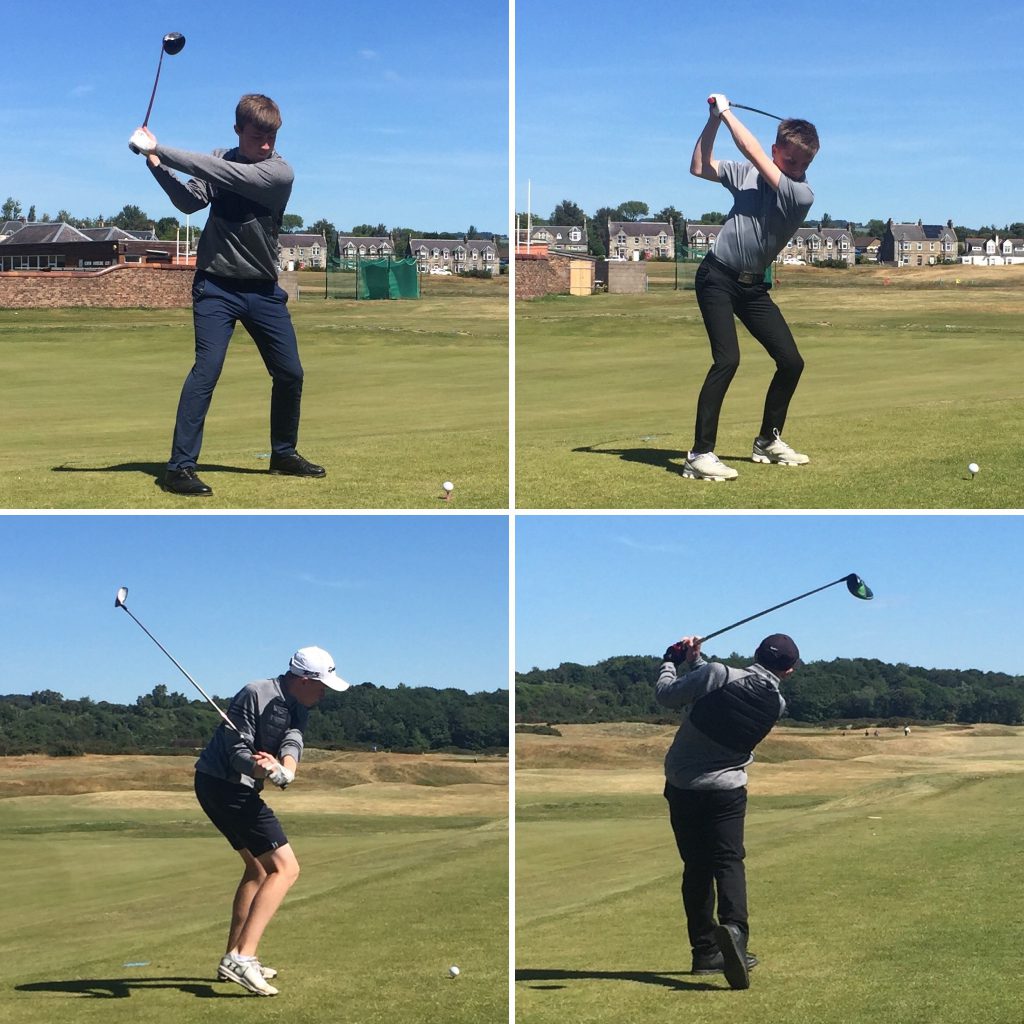 I'm a junior golfer and I already have an official golf handicap.
Well done! You've done the hard part and you have managed to get yourself a handicap. From here the opportunities are endless and it's up to you how far you want to take this game and how good you want to become. As a season ticket holder of Carnoustie Golf Links, you will have the opportunity to do the following:  
Play for the junior team in matches across the country at renowned courses such as St. Andrews, Nairn and Gullane.

 

Receive expert individual and group tuition from our experienced PGA Professionals. 

 

Be kitted out in our official Adidas team crested clothing.

 

Have unique access to the Carnoustie Indoor Performance Centre.

 

Compete against your peers in tournaments at Carnoustie.

 

Be supported when you travel to tournaments further afield such as the Scottish Boys and Girls Championships.  

 

Develop your skills as a volunteer and young leader by assisting the PGA Professionals during the Carnoustie Craws Pathway to Golf coaching sessions.

 
Individual Coaching
If you are a season ticket holder of Carnoustie Golf Links, you will always be supported by our PGA Professionals to help you improve your game and become as good as you want to be. At this stage of your journey as a golfer, it is important to have some individual tuition as this will give you the attention you require to develop your golf skills more effectively. Individual sessions can be organised directly with the PGA Professionals at any time throughout the season and are free of charge if your handicap is 24 or below. Please book a session with the PGA Professionals by emailing clicking HERE.
Group Coaching
Group coaching sessions are provided for the advanced golfers on Tuesday and Wednesday evenings from 5.45-6.45pm. These will take place from April to October. To register for these sessions, please click HERE.
Carnoustie Tournaments
Each year there will be many junior events available to play in. A schedule can be found by clicking HERE. Competitions to note are the following: 
Nicoll Cup (under 14s only)
Junior Links Championship

 

The Carnoustie Junior Open
Handicap Match Play Championship
Pairs Match Play Championship
8 Order of Merit events
The Craws Masters Championship
The October Holidays Championship
The Carnoustie Craws Ryder Cup
Local and County Tournaments
Playing courses around the local area is a great way to improve your game, gain new experiences and meet new friends. Throughout the summer there are numerous local Junior Opens to participate in and if you do well, there is a chance to pick up a few prizes! They cost very little to participate in (usually £5-10) and are often held during the summer holidays. Here is a link to a website that shows all the junior opens in our area.
The Angus County Golf Association (ACGA) are our area representatives within Scottish Golf and also host tournaments for junior golfers throughout the season. To learn more about the tournaments they host please visit the ACGA website 

National Tournaments
As your handicap gets lower and lower, you will have the opportunity to play in renowned competitions such as the Scottish Boys and Scottish Girls Championships. Carnoustie Golf Links will assist you when travelling to these events and provide tournament support. To view the national schedule please visit Scottish Golf's website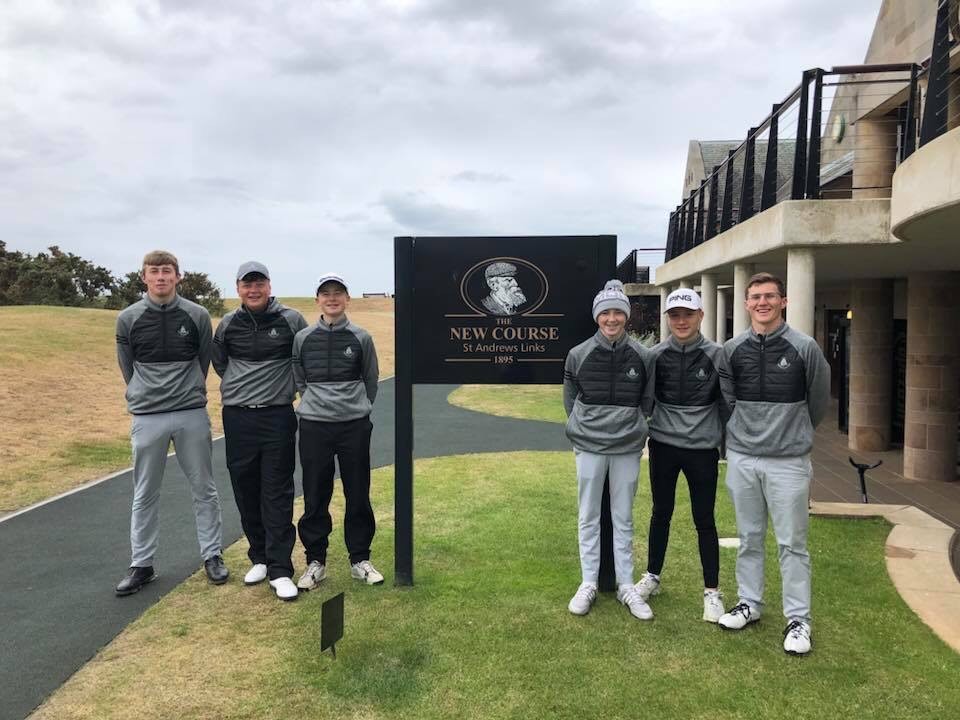 Team Matches
There will be various team matches held throughout the year and having the opportunity to represent Carnoustie Golf Links and compete as a team will be something we hope you will strive for. Golf is an individual sport but, as I'm sure you've seen in the Ryder Cup and Solheim Cup, it means so much more to compete as a team. The PGA Professionals will select players for team events based on several key factors, not just on handicap/performance. You can view the Carnoustie Craws Team Match schedule in the table below.
Team Matches 2022
| Date | Match | Course | Number of Players |
| --- | --- | --- | --- |
| 11th April | Angus County Juniors | Buddon & Burnside Courses - Carnoustie | 8-12 |
| 14th April | Gullane Golf Club (Home) | Championship Course - Carnoustie | 8 |
| 22nd May | Ladybank Golf Club (Away) | Ladybank Golf Club - Ladybank (9 Holes) | 8 |
| 5th June | Joe Gourlay Trophy vs St Andrews Golf Club (Home) | Buddon Course - Carnoustie | 8 |
| 19th June | Crail Golfing Society (Away) | Balcomie Course - Crail | 8 |
| 25th June | Joe Gourlay Trophy vs St Andrews Golf Club (Away) | Eden Course – St Andrews | 8 |
| 20th August | St Andrews Links Junior Academy (Away) | Castle Course - St Andrews | 6 |
| 1st July | Nairn Golf Club (Home) | Championship Course - Carnoustie | 8 |
| 3rd August | Nairn Golf Club (Away) | Championship Course - Nairn | 8 |
| 11th September | Ladybank Golf Club (Home) | Burnside Course - Carnoustie (9 Holes) | 8 |
| 10th October | Angus County Junior Team Championship | Ashludie Course - Monifeith | 4 (per golf club) |
| 15th October | Gullane Golf Club (Away) | Gullane No. 1 - Gullane | 8 |
| 16th October | North Berwick Golf Club (Away) | West Links - North Berwick | 8 |
Volunteering
As an advanced junior golfer, you have a lot of experience and skill that can be passed onto the next generation of Carnoustie Craws. Your assistance in supporting our P1-P2 groups on Tuesday and Wednesdays after school and our P3-P5 groups on Sundays would be much appreciated. Volunteering is a great thing to do as it not only gives you a great feeling but it looks great on a C.V. when you begin to apply for jobs or university. To learn more about volunteering or to get involved please email [email protected].
Indoor Performance Centre
The new state of the art Indoor Performance Centre opened its doors in April 2018 and allowed all golfers in Carnoustie a unique opportunity to improve their golf in very comfortable surroundings. As a Carnoustie Craws Team Member you will have access to this facility during training sessions and at specific times throughout the year. 
Team Clothing
As a playing member of the Carnoustie Craws Team you will receive crested clothing to wear during team matches and while representing Carnoustie in tournaments. Your PGA Professionals will contact you regarding sizing of the clothing in the early months of the season. 
Presentation Evening
At the end of each season, a presentation evening will take place in The Rookery Restaurant at Links House. This evening will be an opportunity for all advanced Carnoustie Craws players to celebrate the season with some excellent food and some games and challenges in the Performance Centre. In 2022, the presentation evening will take place on Friday 28th October from 7pm.