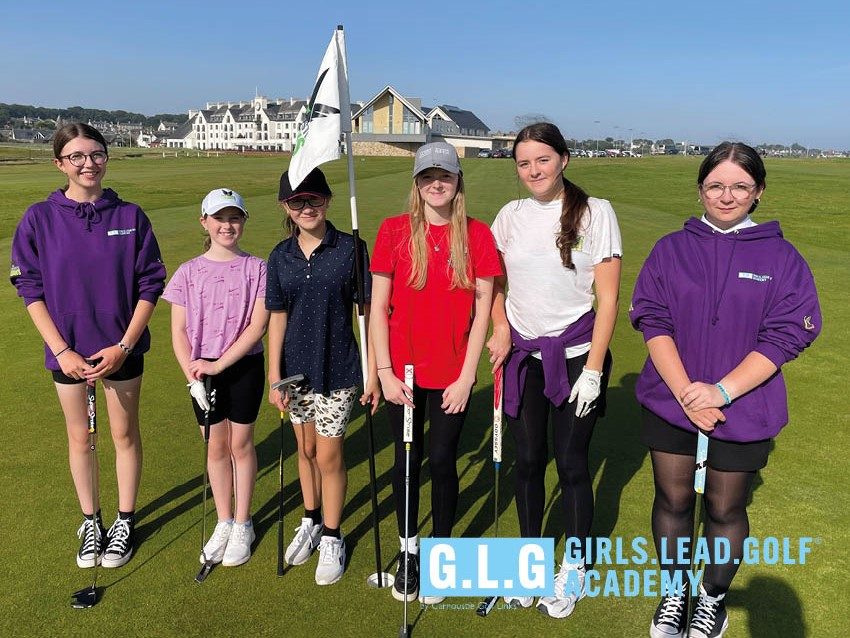 The Girls.Lead.Golf programme at Carnoustie Golf Links has been created by Carnoustie Golf Links and has a two-fold purpose; to combat the drop-off rates of girls participation within golf, and; to help girls develop leadership skills by supporting the next generation of younger golfers.
The team at Carnoustie were very aware of the drop-out rate of young golfers in their early teens and wanted to address the issue – in this case, particularly focusing on girls within the sport. And so the Girls.Lead.Golf Academy at Carnoustie Golf Links was born; helping shape the future of girls golf in Carnoustie.
The benefits are far reaching
The Girls.Lead.Golf Academy at Carnoustie produces a virtuous cycle of girls inspiring girls within the game. Girls are not only taught how to play golf, but also about the wealth of other career and social opportunities available within the sport and beyond. In doing so, we hope that we can inspire a new generation into the game, those who are creative thinkers and strong leaders who will see the game grow and improve far into the future.
——
Become a Junior Leader!
We are currently recruiting Junior Leaders. Becoming a Junior Leader will enable you to improve on your leadership skillset and gain volunteering experience that can be used on your CV!
Register now by completing the form at the bottom of this page. 
——
Who are the Leaders?
Senior Leaders
Girls in this group are generally in S4 – S6 (15-18 years old) and actively practice leadership skills while supporting the PGA Development team in areas such as; communication, patience, problem solving, organisation and planning. Learning these transferable skills through golf is not only beneficial, but also fun!
Junior Leaders
Girls in this group are in S1-S4 (11-15 years old) and spend time with the Senior Leaders every Friday afternoon from 3-4pm during school term time. These sessions, run by the Senior Leaders and supported by the PGA Golf Development Team are designed to help girls to develop relationships, confidence and leadership skills that will enable them to transition successfully into The Senior Leaders Group.
Carnoustie Craws Girls
This group of girls are aged between P3-S3 (8-14 years old) and are the future of Girls.Lead.Golf at Carnoustie. As well as attending weekly mixed coaching sessions with The PGA Golf Development Team in the Summer season, they have the opportunity to attend our Girls Golf Hubs that are hosted and delivered by our Senior Leaders. It is here they see real role models in action, inspiring them to have a connection to golf that will last a lifetime.
Girls Golf Hubs
Senior Leaders work with the PGA Golf Development Team to support coaching sessions as well as hosting 5 seasonally themed Girls Golf Hub coaching sessions for younger girls within the Carnoustie Craws Programme (see calendar below).
Junior Leaders will advance to Senior Leaders when they feel they have developed the necessary experience to assist with the delivery of The Girls.Lead.Golf programme.
Girls Golf Hub Calendar
| Dates | Time | Theme |
| --- | --- | --- |
| 17th December 2023 | 1pm-3pm | Christmas |
| TBC | 1pm-3pm | Valentines |
| TBC | 1pm-3pm | Easter |
| TBC | 1pm-3pm | Summer |
| TBC | 1pm-3pm | Halloween |
*Registration links for each seasonal Girls Golf Hub will be sent to Carnoustie Craws girls participants approximately 1-month prior to the Hub date.*
Further Information
The team at Carnoustie are extremely passionate about Golf Development, actively working to grow the game in a sustainable way and making it accessible for anyone who wants to play.
We want to break down the barriers that either stops people entering into the game or sees them drop-out in their early teenage years. This innovative programme at Carnoustie has been extremely successful and is part of a number of different golf development initiatives that Carnoustie Golf Links run.
We've seen great success in our junior golf programme – The Carnoustie Craws – which welcomes almost 400 boys and girls to coaching every week.
By equipping girls with skills for life and work, Carnoustie's Senior Leaders are well ahead of the game.
Click below to find out more about The Carnoustie Craws Junior Golf Academy or to register for our summer coaching sessions.
——
Become A Girls.Lead.Golf Junior Leader
Register below