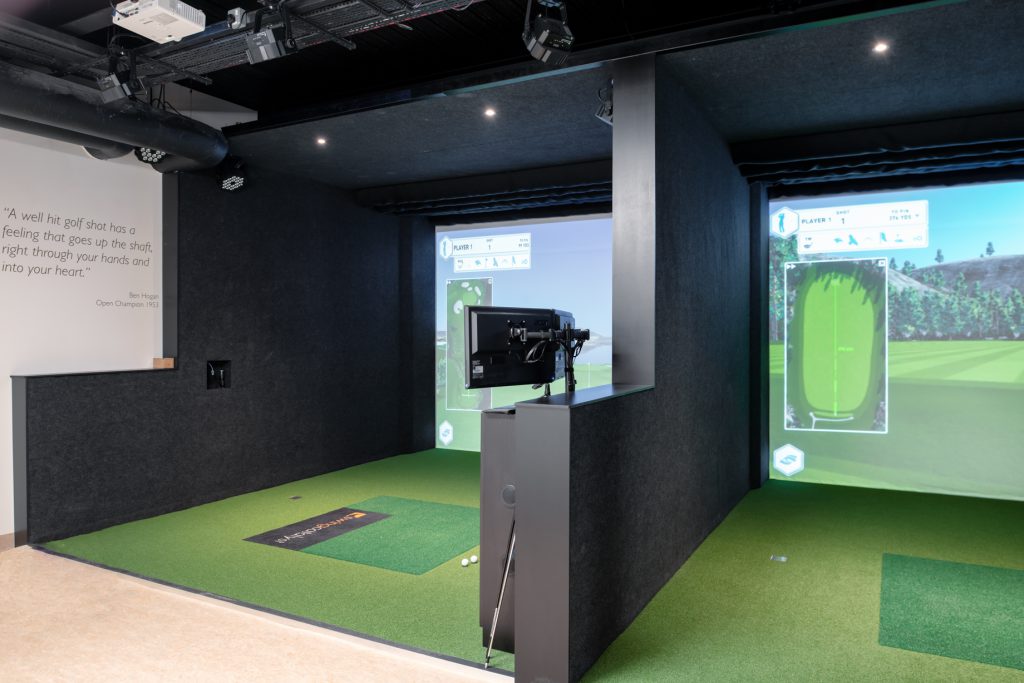 The PGA Golf Development Team conduct lessons on the course, at the practice ground, short game area and putting green. Lessons can also be taken within our Indoor Performance Centre – a state of the art indoor training facility. They cater for golfers of all ages and all standards, from complete beginners to professionals. Lessons can be conducted either on an individual basis or in a group of up to six people.
Within the Performance Centre the PGA Golf Development Team use GCQuad and Swing Catalyst analysis software during lessons, giving you the experience and necessary feedback to improve your game more effectively.
For more information please contact us on +44 (0)1241 802281 or email [email protected]
To learn more about the PGA Golf Development Team, please click here.
To purchase a golf lesson gift voucher, please click here.
PGA Professionals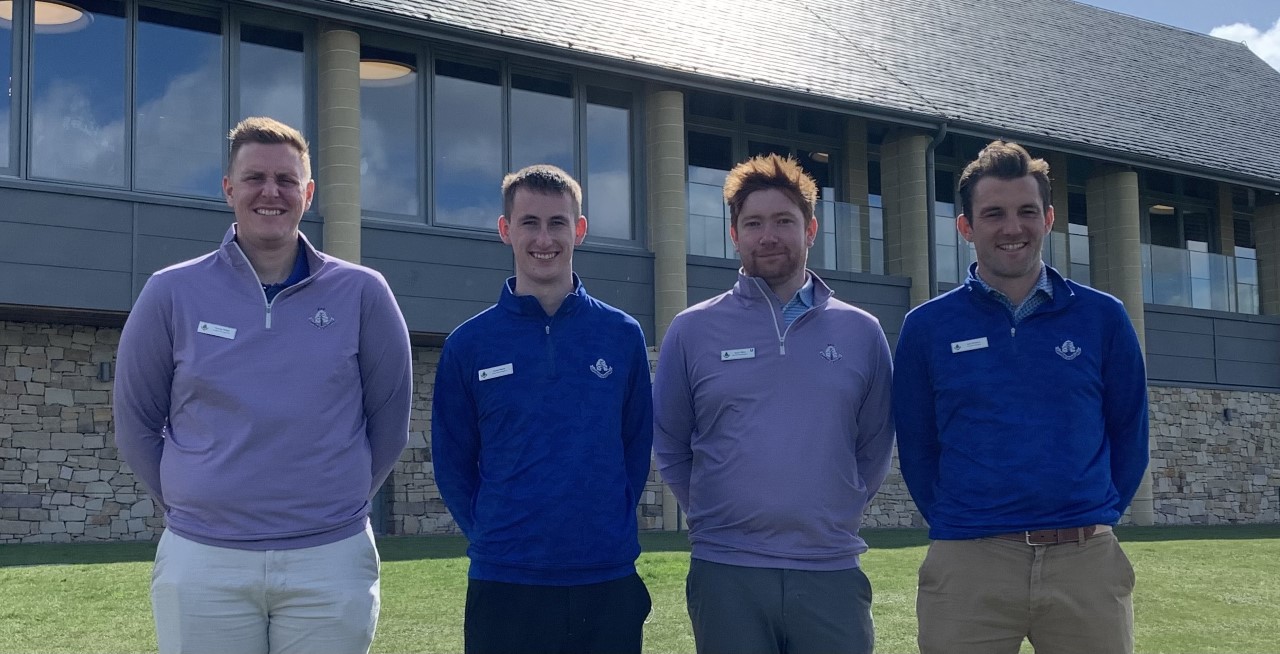 The Golf Development Team from left to right: PGA Professional Tom Phillips, PGA Trainee Dan Morris, PGA Professional Stuart Milne, PGA Head Professional Keir McNicoll
Individual Lessons
30 Minute*
1 Hour
30 Minute Junior
1 Hour Junior
£35*
£55
£15
£25
*Available by request to existing clients only*
| | | |
| --- | --- | --- |
| Group Lessons - 1 Hour Sessions | | |
| Number of People in Group | Adult - Cost Per Person | Junior - Cost Per Person |
| 2 | £30 | £15 |
| 3 | £21 | £11 |
| 4 | £17 | £9 |
| 5 | £15 | £8 |
| 6 | £13 | £7 |
Lesson Packages
Named after our three most famous Open Champions, our lesson packages are designed to improve your game over a longer period and allows your PGA Professional to create a package designed and tailored specifically for you. Whether you require putting, short game or long game improvement, your PGA Professional will help advance your technique in any area while working toward your goals. The lesson packages are also an excellent way for your PGA Professional to spend some time with you on the golf course, allowing you to improve your essential course management and emotional skills that are a major part your performance. Designed with flexibility, our packages are suitable for any golfer who simply wants to enjoy the game more and shoot lower scores. Please note, all lesson packages must be completed within a 12-month period from when the first session is taken.
Please email [email protected] to be sent a link to pay for your lesson package prior to booking your first session.
| | |
| --- | --- |
| Package | Cost |
| Hogan Package - 10 Hours of Coaching | £375 |
| Watson Package - 5 Hours of Coaching | £210 |
| Player Package - 3 Hours of Coaching | £135 |
Beginner Golf Lessons & Packages
Our individual beginner lessons and packages, with Trainee PGA Professional Dan Morris, are a fantastic way for new adult players to get started in the game of golf. Covering the basics of the game, Dan will coach and mentor you to get more confident in your skills and technique, while showing you how to get onto the golf course and play golf. The beginner lessons and packages are only available to people just getting started in the game or returning to the game after some time away and can only be delivered by Dan Morris. If you already have handicap index or consider yourself an experienced golfer, please book a lesson with one of our other Qualified PGA Professionals – Keir, Stuart or Tom. Please note, all beginner lesson packages must be completed within a 12-month period from when the first session is taken.
| | |
| --- | --- |
| Individual Beginner Lessons & Packages | Cost |
| 30 minutes | £20 |
| 1 Hour | £35 |
| Beginner Package - 4 Hours of Coaching | £120 |
Golf Experience Day – £349 (£299 for Season Ticket Holders)
The perfect gift for any golfer to experience everything Carnoustie Golf Links has to offer. Spend the day with one of our experienced PGA Professionals who will guide you through improvements to your golf game utilising the world class facilities on offer throughout the morning. Then, following lunch in the Rookery Restaurant, embark on an 18 hole round of golf on The Carnoustie Buddon Course, implementing the new skills you have just developed.
Itinerary
Arrival 9.00am – Meet your PGA Professional and Morning Coffee
Meet your PGA Professional at The Rookery in Links House to discuss the plan for your day over a cup of coffee or tea.
9.30am -12.00pm – Coaching with PGA Professional
Utilising the world class facilities at Carnoustie Golf Links including the Indoor Performance Centre and short game area, put into action your coaching plan for the day. Utilise GCQUAD, Swing Catalyst and video analysis to improve your game before your afternoon round.
12.00pm-1.00pm – Lunch in Rookery with PGA Professional
Lunch in The Rookery alongside your PGA Professional gives you the opportunity to devise your course strategy and goals for your afternoon round.
1.00pm-5.00pm – 18 holes on The Carnoustie Buddon Course with PGA Professional
Play 18 holes on The Carnoustie Buddon Course with your PGA Professional guiding you round assisting with course strategy and club and shot selection.