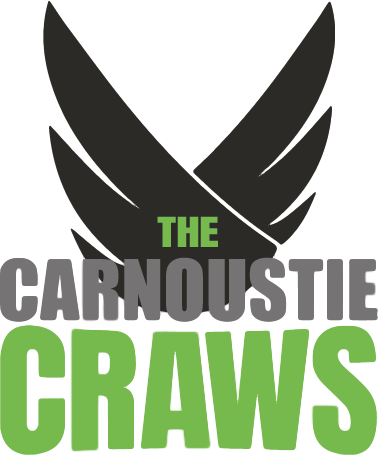 We are delighted you are interested in golf and are looking to improve your golf skills! Golf is a major part of growing up in this town and being involved in the sport is a fantastic way to challenge yourself, meet new friends and most importantly, have a lot of fun.  Through our fantastic My Pathway 2 Golf program, you will be able track your progress and develop your golf skills at your own pace, eventually leading you to become a skilled club golfer.  This is the start of what could be an incredible journey and we look forward to seeing how much you can develop and improve.
Here is some information to help you out…
Coaching for young golfers at Carnoustie Golf Links
Free group coaching is offered to all members of the local community from Primary One (age 5) to S6 (age 18). To enrol in our sessions, you would need to either reside in Carnoustie (DD7 postcode), attend Carnoustie High School or one of the local Primary schools (Burnside, Woodlands, Carlogie, Monikie, Newbigging) or hold a Carnoustie Golf Links junior season ticket. (Junior Season tickets are only available to people who reside in Angus Council.)
How do I register for coaching?
Registration is open form 1st – 28th February 2023. There are limitations on the number of golfers in each age group and golfers who attended our 2022 programme will have first refusal on spaces for 2023. A wait list will be in operation for golfers who can not be accommodated due to an oversubscription of places.
Please click HERE  to complete the registration form.
Coaching and Playing Session Information 2023
Players have the opportunity to attend one group coaching session per week during our season (April – October) and will be grouped based on our three school year/age brackets: 

Opportunities to engage in our weekly On The Course Playing sessions are also available and is key to the young golfer's development in the game. The playing sessions will be grouped based on ability and players will use our On Course Pathway to track their progression. Attending both group coaching and playing sessions is advised and the provisional schedule for 2023 is shown below.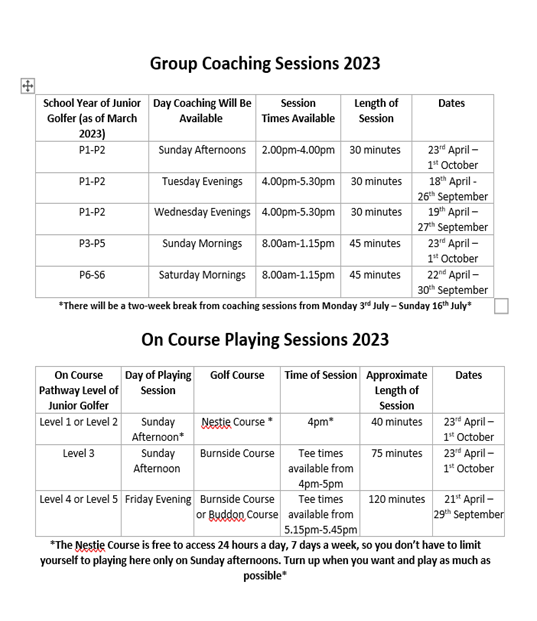 Extra Information for Playing Sessions
Sunday afternoon sessions will be held on the Nestie Course (5 holes) and the Burnside Short Course (4 holes) and are aimed at all young golfers who are in Level 1 to Level 3 of our On Course Pathway. To progress to the Burnside Short Course (Level 3 of our on course playing pathway), a young golfer will have managed to complete the Nestie course in no more than 24 strokes (Level 2 of our on course playing pathway).
Friday evening sessions take place on the Burnside Course and Buddon Course and are aimed at young golfers who are at Level 4 and Level 5 of our On Course Pathway.  This means they've completed the Burnside short 4-hole course (level 3 of our playing pathway) in no more than 19 strokes. 
To watch an information video about our On Course Pathway please click HERE. To read the information that is contained in the video, please click HERE.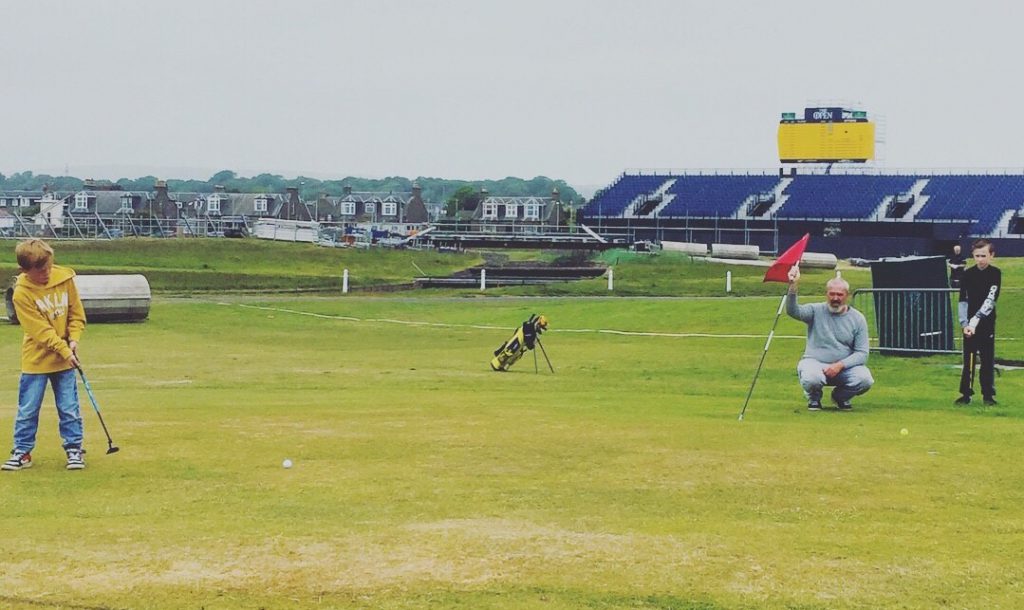 What is "My Pathway 2 Golf"?
Our goal is for you to enjoy golf as much as possible. If you enjoy playing the game now then you have the potential to play the game for a very long time.  Our pathway is designed to inspire a future generation of golfers and through the free App, you can track your progress, upload your achievements, watch videos on how to make your practice more enjoyable and compete against your peers through our online skills challenge and on course leaderboards! The pathway also encourages parents to interact with their children's experiences as they share their progress via the app. When you sign up to attend coaching at Carnoustie Golf Links, you will be able to start your own 'Pathway 2 Golf' by creating your online profile here. 
How do we track progress?
Every player who attends the coaching sessions will be enrolled in the Carnoustie Golf Links Pathway to Golf. This pathway will engage the young golfer to achieve Bronze, Silver, Gold, Platinum, Ruby and Diamond standard in all the following golf skills development areas: 
Putting

 

Chipping

 

Pitching

 

Full Swing

 

On Course Play

 

Rules & Etiquette

 
When the young golfers have reached Diamond Standard at Level 5 of our On Course Pathway they will be at a level ready to achieve a handicap and the PGA Professional will recommend joining one of the local golf clubs. To be awarded Bronze, Silver, Gold, Platinum, Ruby and Diamond standards, the young golfers will need to complete the various skills challenges associated with each golf skill development area. To understand how leaderboard points are accrued on The My Pathway to Golf App please click HERE.

Did you know that The Carnoustie Craws have their very own clothing range?
Our exclusive range of Carnoustie Craws apparel has been designed with the Junior golfer in mind. Along with the members of our junior academy, known as The Carnoustie Craws, every junior golfer is invited to sport this exclusive range, whether they are just starting out, or a professional in the making. Kids can now enjoy a range of fun, comfortable and stylish clothing suitable for any budding young golfer.
Drop in to The Professional Shop to find out more and view the range!