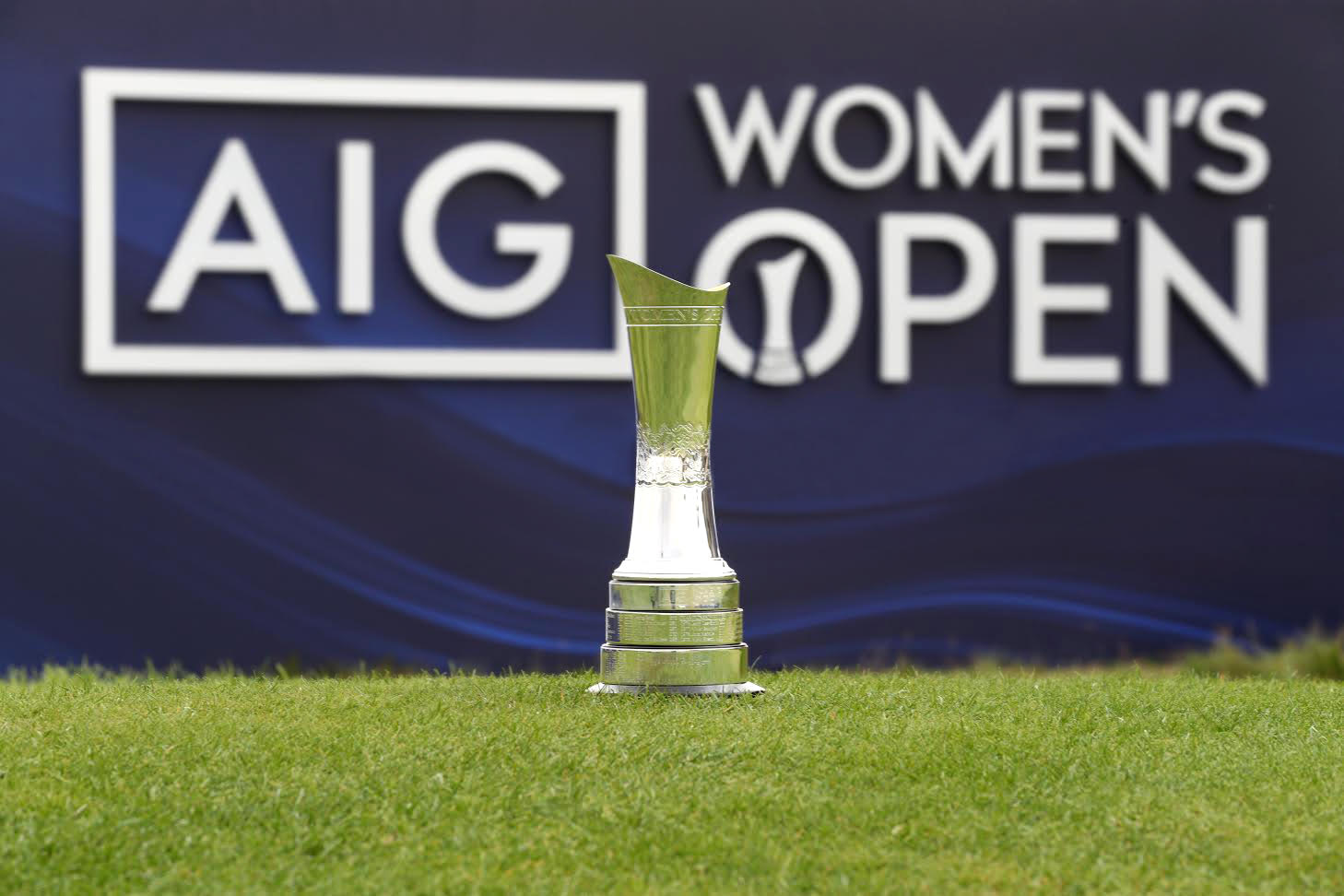 The R&A has underlined its commitment to enhancing the AIG Women's Open's status as a leading major sporting event by announcing five world-class venues for championships being played from 2021 to 2025.
The future championship venues for the AIG Women's Open are:
2021 – Carnoustie
2022 – Muirfield
2023 – Walton Heath
2024 – St Andrews
2025 – Royal Porthcawl

Martin Slumbers, Chief Executive of The R&A, said, "With our partners at AIG, we have a real ambition to grow and elevate the AIG Women's Open for the benefit of the world's leading golfers and so we are excited to confirm our intention to play the next five championships at these renowned courses.
"It has truly been a collaborative effort from all the venues involved to make this schedule possible and the flexibility that they have shown in adjusting their own calendars has been vital in allowing us to confirm our plans for the championship through to 2025.
"We are grateful for their support, particularly during a time when golf has been impacted by the on-going pandemic, and we look forward to working with these venues to deliver an outstanding experience to be enjoyed by everyone involved in the AIG Women's Open."
Peter Zaffino, President and Global Chief Operating Officer, AIG, commented, "AIG is pleased to partner with The R&A to increase visibility and engagement in women's professional golf by enhancing the global stature of the AIG Women's Open. We proudly welcome the involvement of these venerable courses, which will be fitting hosts for these accomplished golfers as they compete at the highest level."
Muirfield, Walton Heath and Royal Porthcawl will be hosting the women's major championship for the first time.
Muirfield has a prestigious history of hosting major championships, having held The Open on 16 occasions. It also hosted The Curtis Cup in 1952 and 1984 as well as the Vagliano Trophy in 1963 and 1975.
Walton Health has been a venue for the Ryder Cup, the Senior Open presented by Rolex and the British Masters.
Royal Porthcawl has held The Amateur Championship on seven occasions and was the venue for the Walker Cup in 1995 when Great Britain and Ireland defeated a United States of America team featuring Tiger Woods. It has also hosted the Senior Open presented by Rolex, the Curtis Cup and the British Masters.
The Old Course at St Andrews will stage the championship for the third time after Lorena Ochoa and Stacy Lewis won the title over the world-famous links in 2007 and 2013. The AIG Women's Open will return to Carnoustie for the first time since 2011 when Yani Tseng successfully defended her title.
The AIG Women's Open will take place from 16-22 August 2021 at Carnoustie with tickets now on sale via aigwomensopen.com.
Adult tickets will start from £20 with children aged 16 years or under before the Championship admitted free of charge. Spectators aged 24 years or under will be entitled to purchase youth (16-24 years) tickets. A £5 Mastercard discount is available per transaction.
All future championship dates will be announced in due course.
For more ticket and championship information please visit aigwomensopen.com.
Pat Sawers, Chair, Carnoustie Golf Links
"I am delighted to welcome the AIG Women's Open back to Carnoustie in 2021. The event was a tremendous success in 2011 and I regard it as a privilege to host the championship and look forward to seeing the world's top players face the challenge of Carnoustie once again."
Alistair Campbell, Captain, the Honourable Company of Edinburgh Golfers
"The Honourable Company relishes the prospect of hosting the AIG Women's Open in 2022. I know our members and many others will be enthusiastic in welcoming the world's best women golfers as they tackle our famous championship links."
Dr Alastair Wells, Chairman, Walton Heath
"Hosting the AIG Women's Open one of the ladies Majors is a great honour for Walton Heath and will add to our rich golfing heritage. We were proud last year to sign up to The R&A Women in Golf Charter and we very much hope that this event will provide a great boost for women's golf in London and the United Kingdom."
Euan Loudon, Chief Executive, St Andrews Links Trust "We are delighted that the AIG Women's Open will return to our calendar of prestigious events at the Home of Golf. Since first hosting the Championship 2007 it has produced hugely entertaining, memorable weeks and worthy champions to join the Old Course's illustrious honour roll. We look forward to welcoming the world's greatest golfers to our famous Links in 2024."
Dr Jonathan Chapman, Captain, Royal Porthcawl:
"We are enormously excited to welcome the best female golfers in the world to Wales in 2025. Georgia Hall and Charley Hull both featured in the Junior Vagliano Trophy played at Royal Porthcawl in 2011 and it will be fantastic to see them return in their prime. The membership, staff and Welsh public look forward to the event with great anticipation."
Ends.
About the AIG Women's Open
The AIG Women's Open will be played at Royal Troon from 20-23 August 2020.
First established in 1976 and now owned by The R&A, the AIG Women's Open is one of five Major championships in women's golf.
Each year 144 players compete for the championship trophy with the low amateur, who plays 72 holes, awarded the Smyth Salver.
About AIG
American International Group, Inc. (AIG) is a leading global insurance organization. AIG member companies provide a wide range of property casualty insurance, life insurance, retirement solutions, and other financial services to customers in more than 80 countries and jurisdictions. These diverse offerings include products and services that help businesses and individuals protect their assets, manage risks and provide for retirement security. AIG common stock is listed on the New York Stock Exchange.
Additional information about AIG can be found at www.aig.com | YouTube: www.youtube.com/aig | Twitter: @AIGinsurance www.twitter.com/AIGinsurance | LinkedIn: www.linkedin.com/company/aig. These references with additional information about AIG have been provided as a convenience, and the information contained on such websites is not incorporated by reference into this press release.
AIG is the marketing name for the worldwide property-casualty, life and retirement, and general insurance operations of American International Group, Inc. For additional information, please visit our website at www.aig.com. All products and services are written or provided by subsidiaries or affiliates of American International Group, Inc. Products or services may not be available in all countries and jurisdictions, and coverage is subject to underwriting requirements and actual policy language. Non-insurance products and services may be provided by independent third parties. Certain property-casualty coverages may be provided by a surplus lines insurer. Surplus lines insurers do not generally participate in state guaranty funds, and insureds are therefore not protected by such funds.
About The R&A
The R&A group of companies was formed in 2004 to take on The Royal and Ancient Golf Club of St Andrews' responsibilities for governing the Rules of Golf, staging The Open, golf's original championship, and developing the sport. The British Golf Museum in St Andrews is part of the R&A group.
Together The R&A and the USGA govern the sport of golf worldwide, operating in separate jurisdictions with a commitment to a single code for the Rules of Golf, Rules of Amateur Status and Equipment Standards. The R&A, through R&A Rules Ltd, governs the sport worldwide, outside of the United States and Mexico, on behalf of over 36 million golfers in 143 countries and with the consent of 158 organisations from amateur and professional golf.
The R&A has responsibility for running a series of world-class amateur events and international matches in women's and girls' as well as men's and boys' golf. The R&A stages the AIG Women's Open and works with the European Tour to stage the Senior Open presented by Rolex.
The R&A is committed to investing £200 million over ten years in developing golf and supports the growth of the sport internationally, including the development and management of sustainable golf facilities. For more information, visit www.randa.org.
Further information:
The R&A Corporate Communications
+44 (0)1334 460000
[email protected]