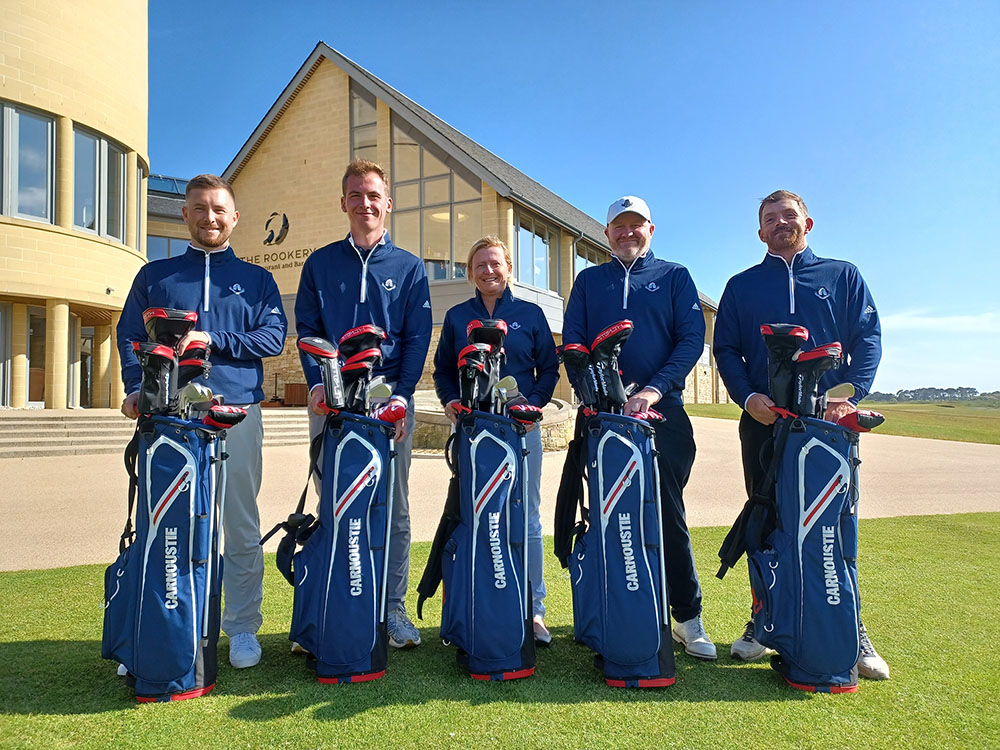 Carnoustie Golf Links has launched a brand-new funding support programme for high-performing adult amateur Season Ticket Holders. The programme applications opened in Spring, 2023 and Carnoustie Golf Links' Funding Panel selected five high-flying, elite golfers to assemble Team Carnoustie.
We recognised that achieving high performance in any sport requires funding and providing financial assistance can be the biggest support to players trying to achieve national recognition. While our junior programme has been successful in breaking down almost every cost barrier into the sport, we understand that migrating to competing as an adult elite amateur can be expensive.
To allow us to continue to help nurture future generations of high-performing golfers, we have launched a support programme to help players who reach, or aspire to reach, elite amateur standard in all levels of adult and disability golf.
Keir McNicoll, PGA Head Professional, who heads up our Golf Development Team said "Growing the game of golf is a key ambition for us here at Carnoustie, but we understand that there can be barriers for individuals looking to take their game a step further. That's why we have created this brand-new programme, which is a unique opportunity for skilled golfers to be given support in the key areas they need it most. We're really proud of our new Team Carnoustie and are delighted to be able to support their success."
The elite applicants who have successfully earned their place in Team Carnoustie are five skilled and motivated individuals: Scott Mann, Daniel Elder, George Finlay, Rory Bain and Claire Penman.
As part of the programme, the five golfers will access up to £1,200 in golf related expenses. This will include team branded clothing from Adidas Golf, balls and gloves from TaylorMade and coaching and guidance from The PGA Golf Development Team here at the Links.
Michael Wells, Chief Executive of Carnoustie Golf Links said "We're delighted to offer this exciting and unique programme, giving the Links' elite amateur golfers the chance to further develop their game and skills by reducing the burden of the finances associated with this. We value golf development and within our wonderful community of Season Ticket Holders there are many exceptional golfers. We want to show our commitment to their development on a personal level."
Find out more about Team Carnoustie