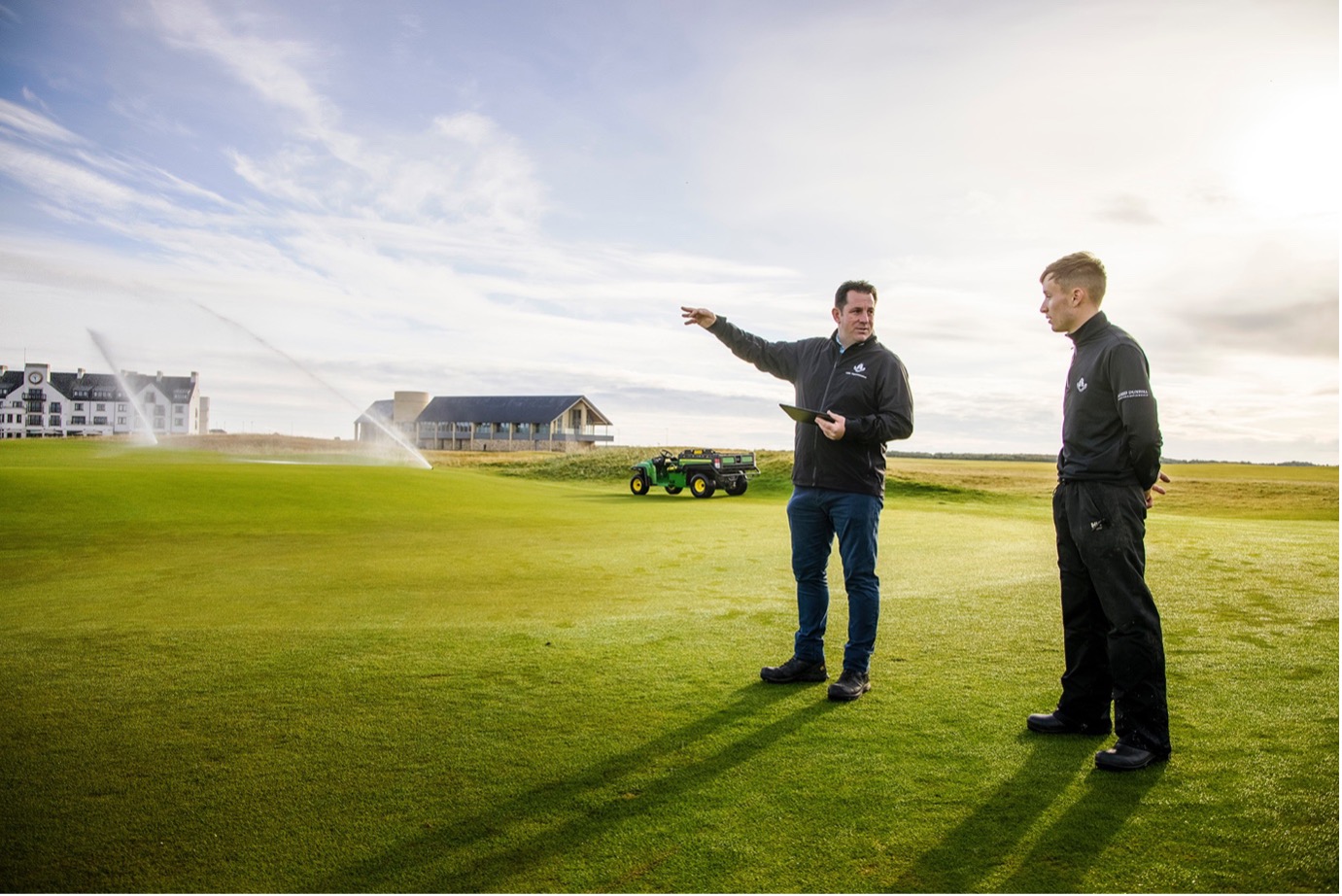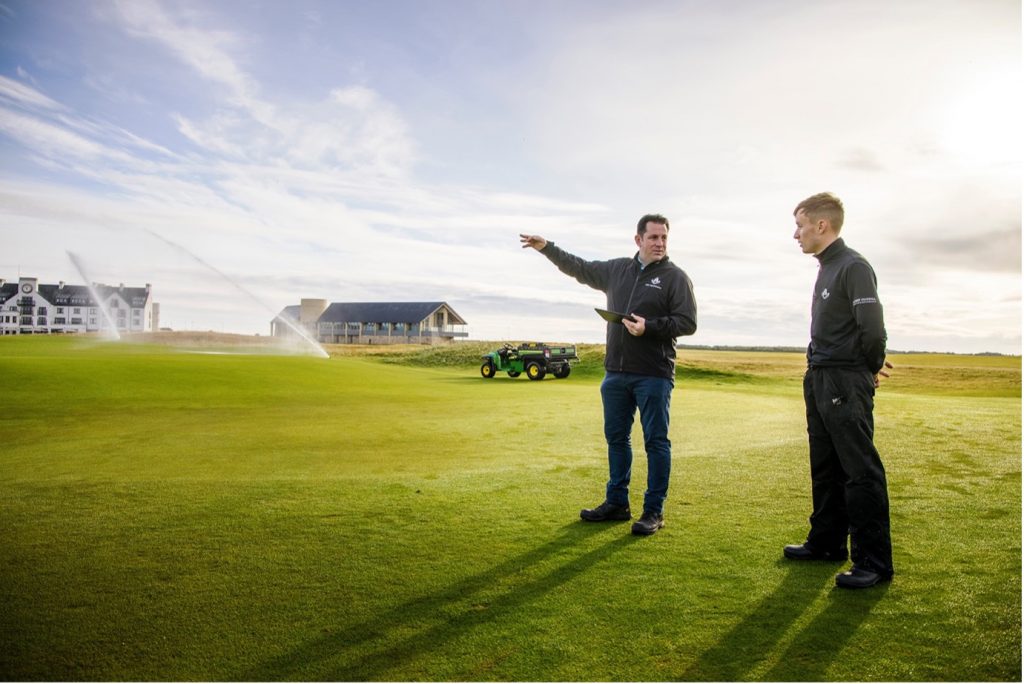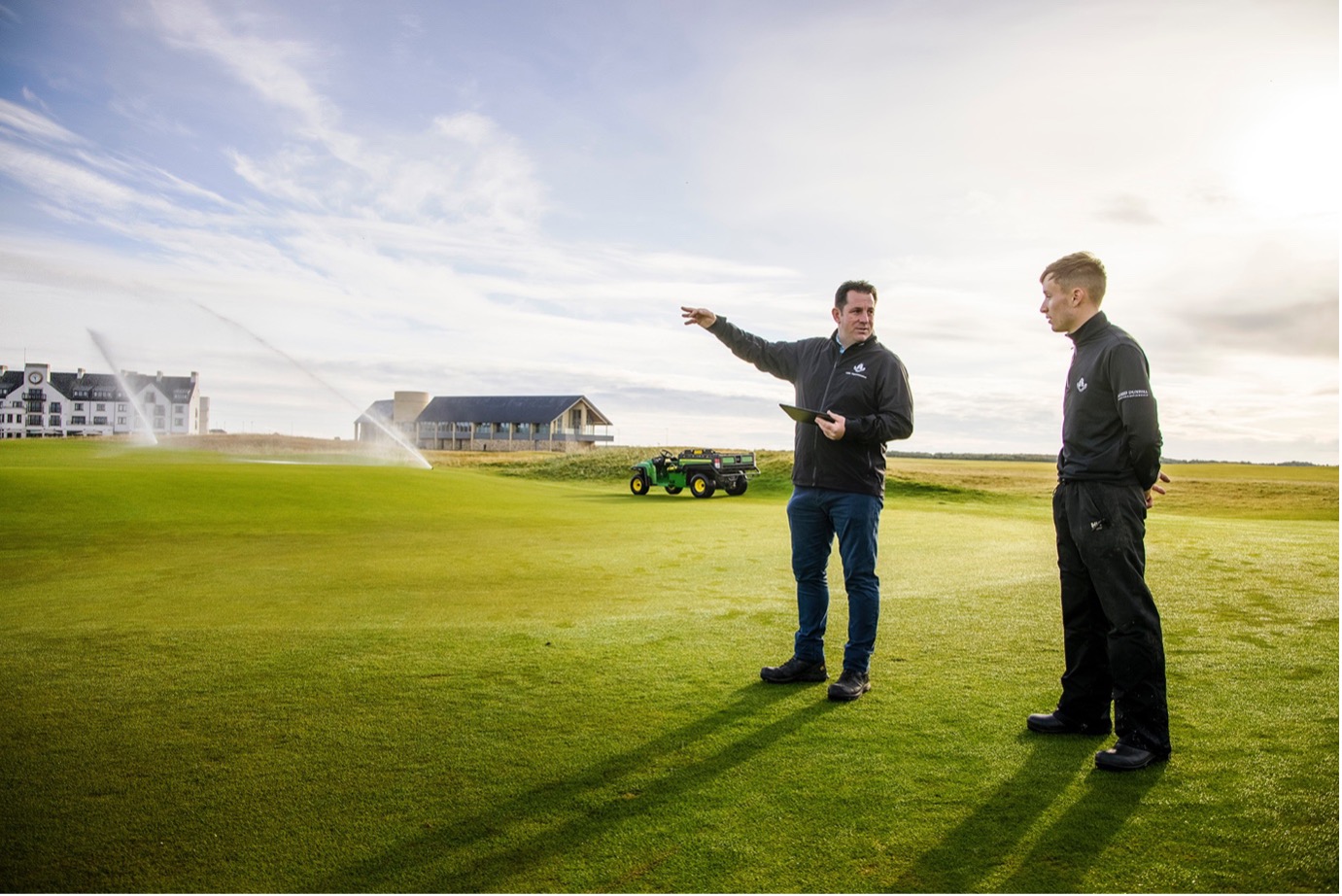 Image caption: Craig Boath, Links Superintendent at Carnoustie Golf Links with Ross Crosbie, Apprentice Greenkeeper
This year, Carnoustie Golf Links completed our biggest recruitment drive to date, filling 58 vacancies within the organisation, including bringing on three new Greenkeeping Apprentices and a Trainee PGA Professional, upping the head count to 125 members of staff and remaining one of the towns largest employers.
Carnoustie Golf Links employ staff in a wide range of industries including golf course operations, administration, retail, hospitality and coaching, we also provide opportunities for the 200+ Carnoustie caddies who live, work and spend in the local area. These caddies are an essential part of the Carnoustie experience and they, along with the rest of the teams at Carnoustie, provide an outstanding service for the tens of thousands of visitors to the courses and town every year.
Due to an exceptionally busy start to the 2022 season, Carnoustie have created just under 60 vacancies with 95% of the roles held by local Carnoustie residents. For 6 weeks, the Human Resources team carried out back-to-back interviews and reviewed over 1,000 CV's alongside the Senior Management team.
As a strategic employer, the Links are dedicated to the training and development of new generations. This is evidenced by the new apprentice and trainee positions that were made available this year.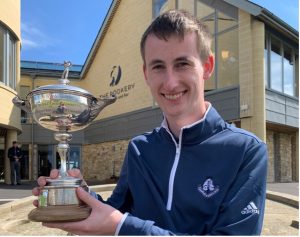 Image caption: Daniel Morris, Trainee PGA Professional and
winner of The Ben Hogan Trophy at Carnoustie in 2022
Daniel Morris is Carnoustie's Trainee PGA Professional and started with the organisation in April 2022. Our ambition is to expand their Golf Development and Professional Shop Team and in return providing world class, well rounded, training that will lead trainees into a successful career as future PGA Professionals. Daniel will remain with Carnoustie on a training contract until at least October 2025 and Carnoustie Golf Links will fully fund his PGA Training.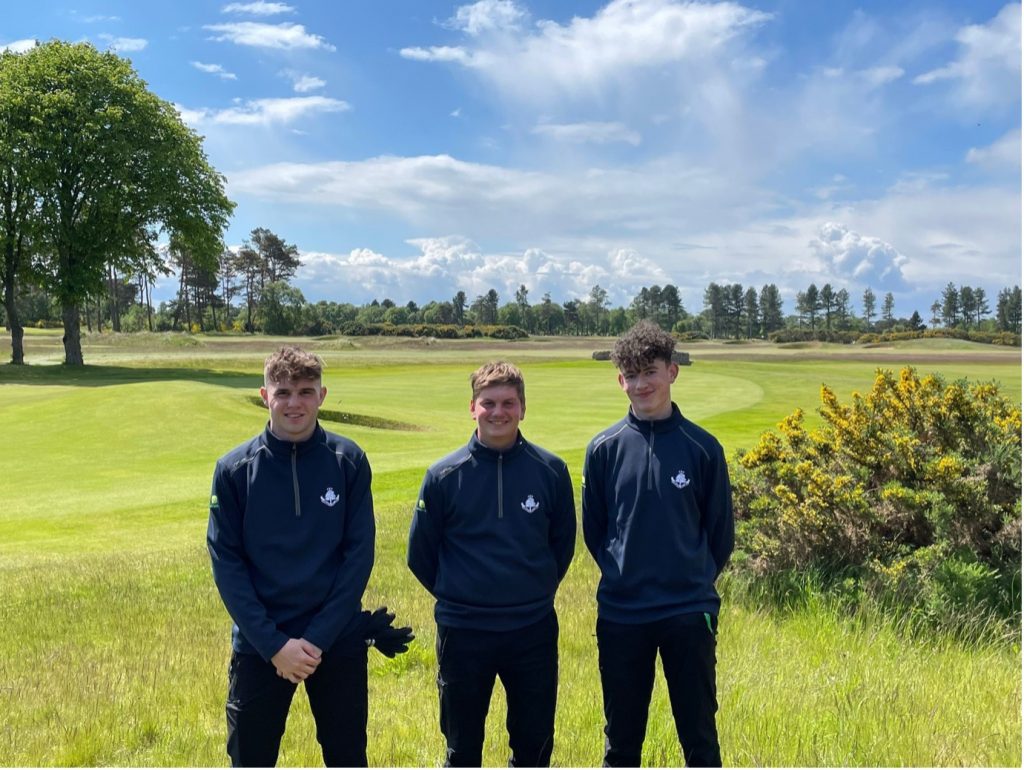 Image caption: Carnoustie's 2022 Apprentice Greenkeepers (in order), Kerr Westlake, Kyan Low and Brandon Walker
This year Carnoustie have also recruited three Greenkeeping apprentices, Kerr Westlake, Kyan Low and Brandon Walker who will receive essential first-class training from the teams at Carnoustie along with continuing their education into Greenkeeping through Elmwood College in Cupar.
In order to find this next generation of greenkeepers, Carnoustie's HR department reached out to the High Schools in Angus and successfully recruited all three from Carnoustie High School. All three new recruits have been part of the Carnoustie Craws golf development programme.
Michael Wells, Chief Executive of Carnoustie Golf Links, said "We chose to employ apprentices because we believe it is the right thing to do. We want to grow our workforce from within and instil the professionalism and expertise that we have within our current team. As the town's largest employer, it was also important for us to recruit locally.
We are committed to providing Kerr, Kyan and Brandon the very best experience in their first step into employment and we hope that they will enjoy and flourish in their four-year apprenticeship. They will finish this apprenticeship with a qualification in Greenkeeping and four years' experience working with the world's best golf course.
This is only the start of our apprenticeship programme, we hope that the success of this programme will pave the way for our next group of apprentices in the coming years."
Commitment in this programme is required from both sides. The parents and guardians of the new apprentices were invited to meet with the team at Carnoustie where they were given greater insight into the programme and an opportunity to have any questions answered. This allowed Carnoustie to ensure that they could provide support not only to the apprentices, but also to those nearest them, meaning that they could share in this exciting opportunity and also be fully aware of the commitment required to fulfil the contract.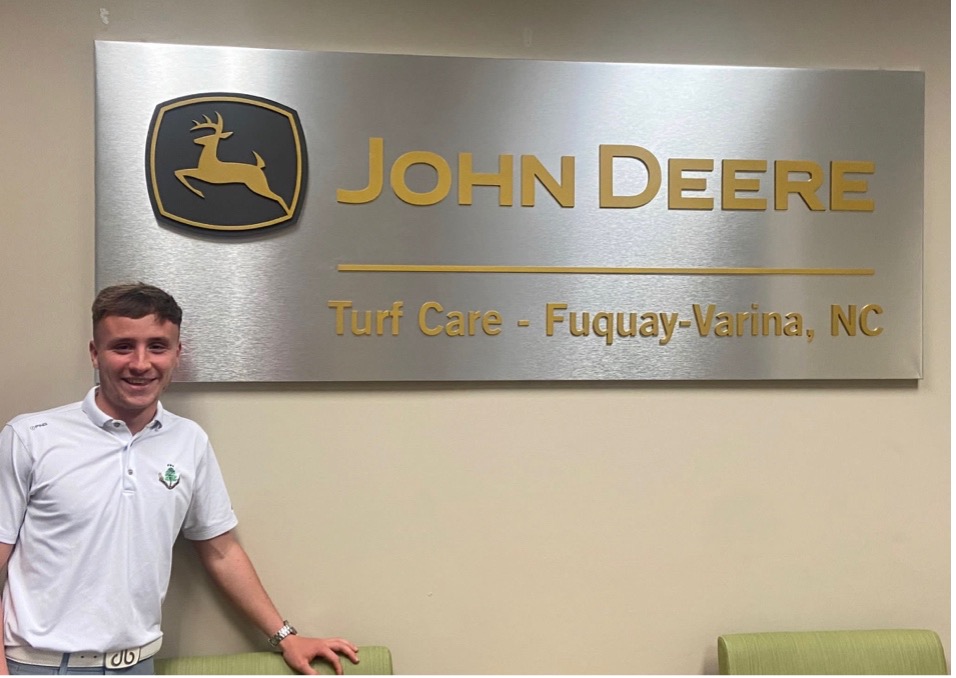 Image caption: Ross Crosbie, Apprentice Greenkeeper during his work experience in the USA
In joining the greenkeeping team at Carnoustie, the new apprentices have lots to look forward to. As part of Carnoustie's partnership with John Deere, each year a select number of Greenkeepers will be offered the chance to carry out work experience in the USA amongst many other opportunities. This year, Carnoustie's current apprentice greenkeeper, Ross Crosbie, visited the Pinehurst Resort on a month-long work experience programme.
The management team at Carnoustie are also supporting a number of office-based training programmes and work experience opportunities in order to support those looking to further their career or gain new qualifications.