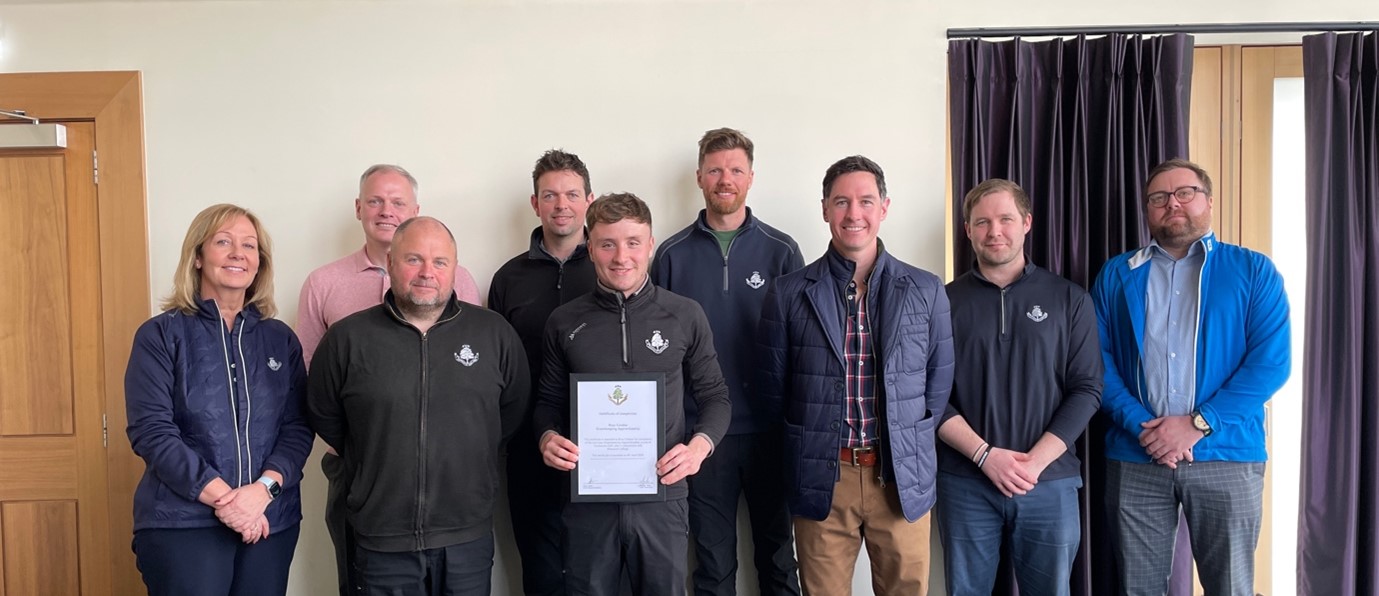 On Tuesday 4th April, Carnoustie's first apprentice in recent years, Ross Crosbie, celebrated becoming a fully qualified Greenkeeper after a four-year apprenticeship with Carnoustie Golf Links. The Executive Team at Carnoustie Golf Links have been extremely impressed by Ross's hard work and dedication to his apprenticeship and have since been delighted to offer Ross a full-time, permanent position as a Qualified Greenkeeper at the world-famous Angus venue and will continue to act as an Ambassador for the Greenkeeping Apprenticeship and for Carnoustie Golf Links in partnership with Developing the Young Workforce.
As a Carnoustie resident, Ross grew up in the town and played golf from a young age, enjoying the benefits of the junior coaching programme delivered by Carnoustie Golf Links as part of the Carnoustie Craws junior programme, which provides free group coaching to over 350 young people in the community, from age 5 to age 18.
Ross had previously undertaken work experience at the Links and having made the most out of his opportunity, looked for the next step after completing his school studies. When the Apprentice Greenkeeper position became available, Ross was keen to apply and was ultimately successful in his bid for the role.
Kevin Stott, Links Superintendent at Carnoustie Golf Links said: "From the outset, Ross has truly integrated himself into the Greenkeeping team as well as the wider organisation. Ross arrives at work every day with a great attitude to learn, an enthusiastic work ethic and is also keen to pass on his knowledge and support newer apprentices.
"Since beginning his Apprenticeship, Ross has showcased a strong commitment and passion to becoming a greenkeeper, always working to the best of his ability. He consistently looks to improve upon his skills and does so with real enthusiasm and determination.
"Ross has supported the Greenkeeping team by acting as a representative at Careers Days, showcasing the apprenticeship programme and now, on completion of his apprenticeship, Ross continues to showcase his great attitude to work, his passion for greenkeeping and fantastic attention to detail and we believe that he is a great ambassador for Carnoustie."
The four-year apprenticeship works in conjunction with Elmwood College in Cupar and upon completion, the apprentice is awarded with a Sports Turf Greenkeeping SVQ Level 2 award. The benefits of being an apprentice at Carnoustie are many and include the opportunity to earn whilst you learn from one of the best Greenkeeping teams in the world.
Ross has had the chance to work alongside some of the most skilled and knowledgeable greenkeepers whilst at Carnoustie and has expanded his awareness by travelling further afield to learn about course management in warmer climates. In the fourth year of his apprenticeship, he travelled to the USA where he undertook work experience at Pinehurst Golfing Resort in North Carolina. He gained new experiences and learnings which he has brought back with him to Carnoustie, enriching his own knowledge and development, and even experienced working with the Greenkeeping team to present the US Women's Open in 2022.
Ross Crosbie said: "Ever since I was young I've played golf at Carnoustie, and I know how highly regarded Carnoustie is in the industry, because golf has pretty much been my life. So, to be able to work on a Championship golf course, my home course, to me, that's the best thing about working at Carnoustie. But also, I've had great opportunities working here. I've been off to America, I spent three weeks at Pinehurst. That's something that I never, ever thought I would do in my life. The amount of people that I've met, the things that I'll take with me for the rest of my life, it really is something incredible."
Carnoustie Golf Links strives to employ apprentices and local young people as it continues to connect with the community in an aim to support development of the young work force. Carnoustie Golf Links aim to train and mentor eager, motivated young people, providing hands on training and offering the best start to any young person joining the company.
Michael Wells, Chief Executive at Carnoustie Golf Links said: "As a strategic employer, the Links is dedicated to the training and development of new generations. At Carnoustie, we provide a four-year apprenticeship to our trainee Greenkeepers – they finish their apprenticeship with a qualification in Greenkeeping plus four years' experience working at one of the world's best golf courses.
"We want to provide our apprentices with every opportunity to succeed and excel, plus allow trainees to access all areas of learning which will help them reach this ambition. Our strategic partner, John Deere, have been hugely supportive of our apprenticeship programme providing opportunities for additional development training through their international venues.
"Our aim is to provide as thorough an education into greenkeeping as possible, moving away from the antiquated apprenticeship style in favour of a dynamic and modern approach. We trust our apprentices and give them responsibilities that they feel comfortable with, which will challenge them whilst allowing natural progression to take place."
At a celebratory lunch on Tuesday 4th April, hosted in The Rookery restaurant and bar within Links House at Carnoustie Golf Links, Ross was presented with a certificate of completion of his apprenticeship from Carnoustie Golf Links and a gift from John Deere presented by Nikki McKenzie from John Deere.
In attendance from Carnoustie Golf Links was Michael Wells – Chief Executive, Adair Simpson – Deputy Chief Executive, Kevin Stott – Links Superintendent, Duncan Cairnie – Championship Course Manager, Mark Reynolds – Burnside and Buddon Course Manager, Tracey Riley – HR Manager. In attendance from John Deere, one of Carnoustie's strategic partners, was Nikki McKenzie. In attendance from Carnoustie High School was Russell Brown.
Image Caption (in order): Tracey Riley (HR Manager, Carnoustie Golf Links), Russell Brown (Carnoustie High School), Kevin Stott (Links Superintendent, Carnoustie Golf Links), Duncan Cairnie (Championship Course Manager, Carnoustie Golf Links, Ross Crosbie (Qualified Greenkeeper, Carnoustie Golf Links), Mark Reynolds (Burnside and Buddon Courses Manager, Carnoustie Golf Links, Michael Wells (Chief Executive, Carnoustie Golf Links), Adair Simpson (Deputy Chief Executive, Carnoustie Golf Links), Nikki McKenzie (John Deere)