Words by Craig Boath, Links Superintendent
Or so the saying goes. The last couple of weeks have seen the temperatures rise which is a good thing for every greenkeeper up and down the country. The warmer weather provides the perfect opportunity to get on with course maintenance including the likes of top dressing, coring, solid tining and feeding and that is no different at the three courses at Carnoustie.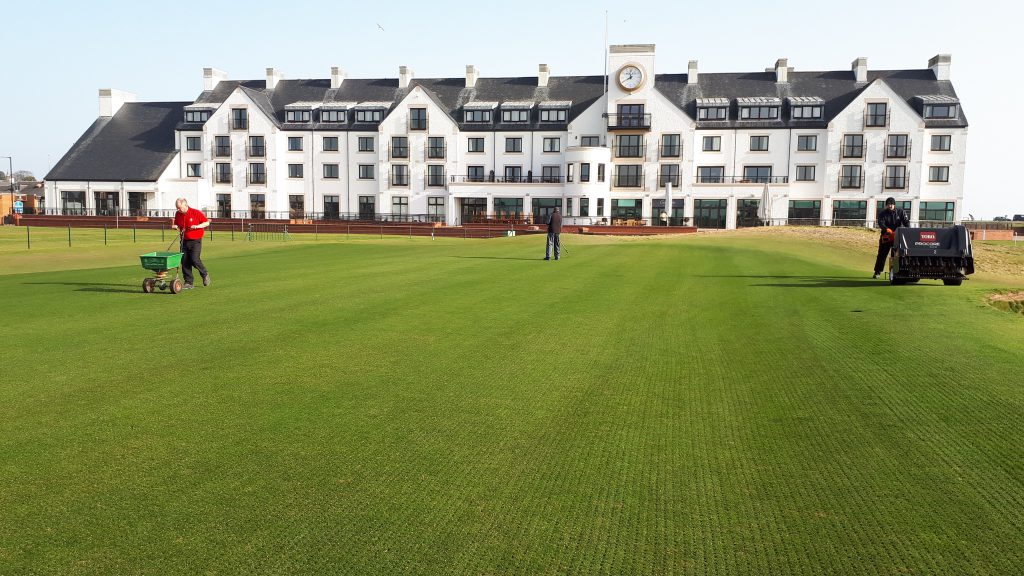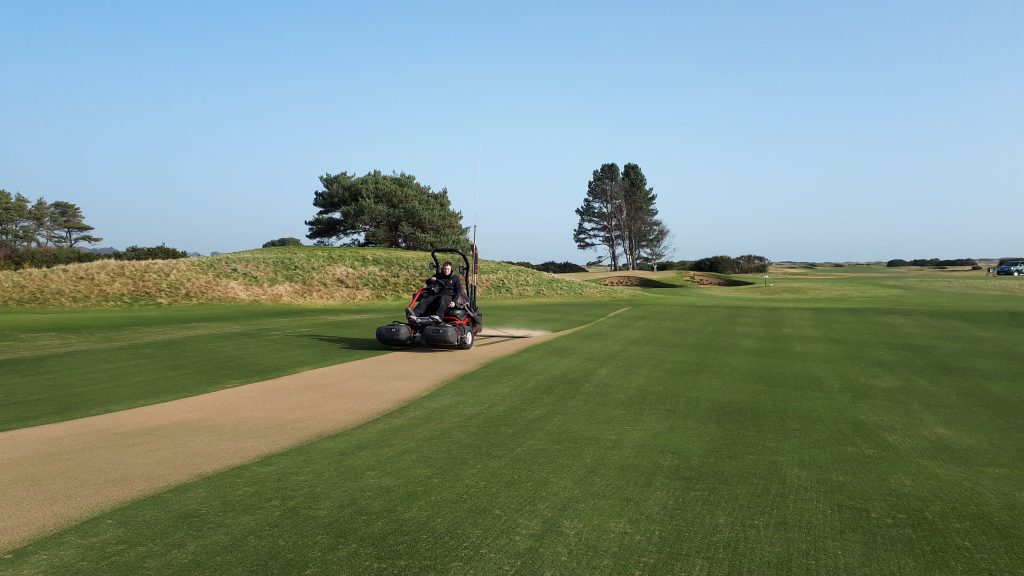 If we cast our minds back to this time last year, we were covered in snow wondering when the very cold weather was going to finish. We got through it though and it then went on to be one of the driest summers since 1976. Will we ever see the likes again or is that it for another twenty plus years?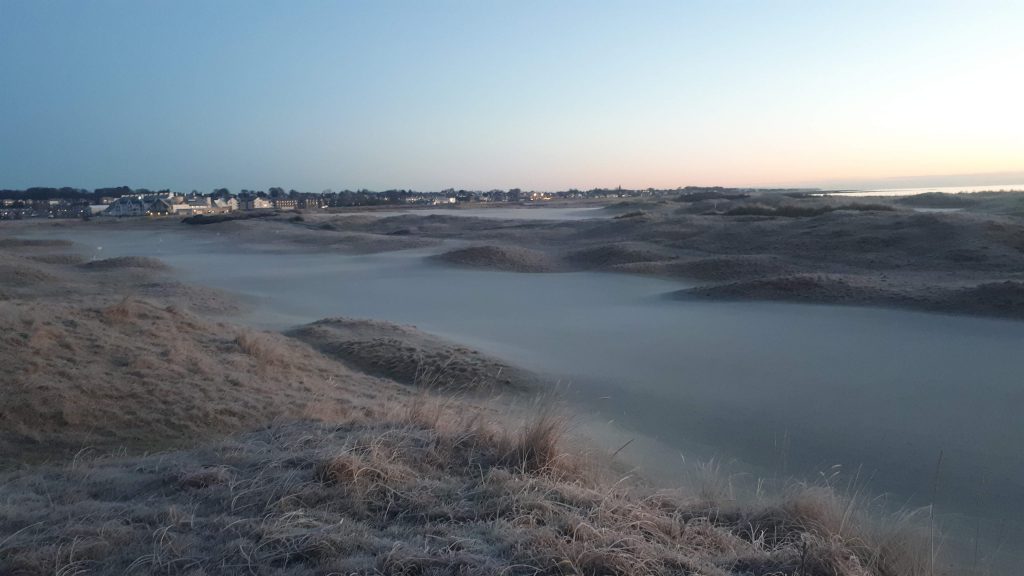 Aside from the course being closed at the beginning of February due to snow, the weather recently  has been favourable enough to allow us to get on with overseeding the greens on the Championship Course during our scheduled maintenance week closure.
The guys on the Burnside Course have been getting on with bunker building along with the Buddon, something that we were unable to do last winter due to the construction work that was ongoing on the Championship Course in the run up to The 147th Open.
The weekend just past saw the 1st and 18th of the Burnside return to almost full length with the rough in between still under G.U.R. with dropping zones (D.Z.) in play placed at the sides of the seeded and turfed areas.
For myself, I have been fortunate enough to embark on a handful of educational trips recently. The first of these was down at Harrogate for BTME (BIGGA Turf Management Exhibition), an annual gathering for greenkeepers from around the UK to learn more about the industry through educational talks as well as the trade show – where all the up to date machinery is unveiled and displayed.
If that wasn't enough, the next trip was over to the Golf Industry Show in San Diego where I was part of a delegation from BIGGA (British and International Golf Greenkeepers Association). The trip involved two days' worth of educational talks from leading names in the industry and a look at the trade shown itself. To top it off, I received an award for Best Overall Use of Social Media through the Golf Course Industry magazine, how about that!!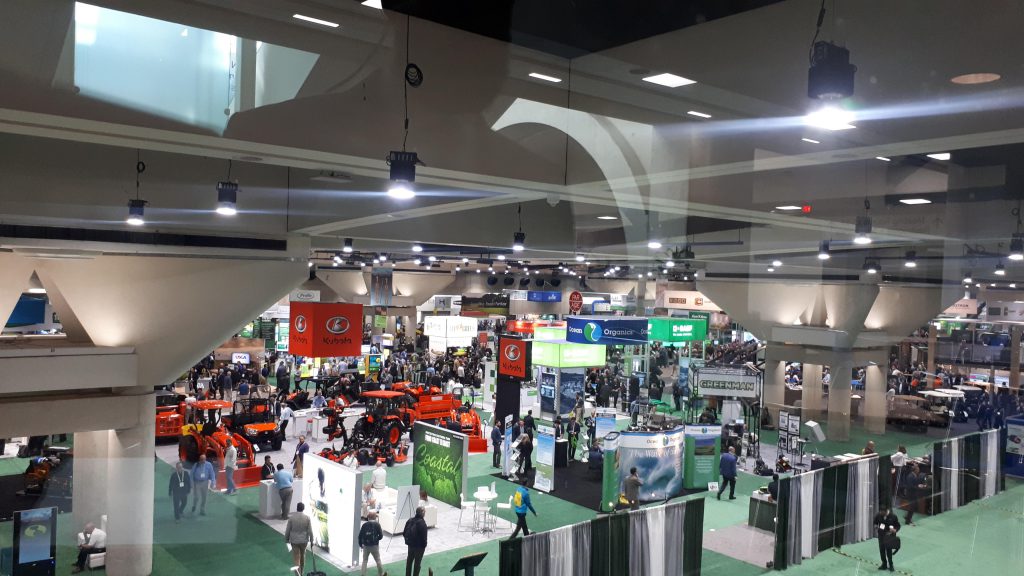 I was fortunate enough to do a few course visits during my time across the pond to Torrey Pines, The Bridges at Rancho Santa Fe and The Crosby Club, where we also enjoyed a round of golf.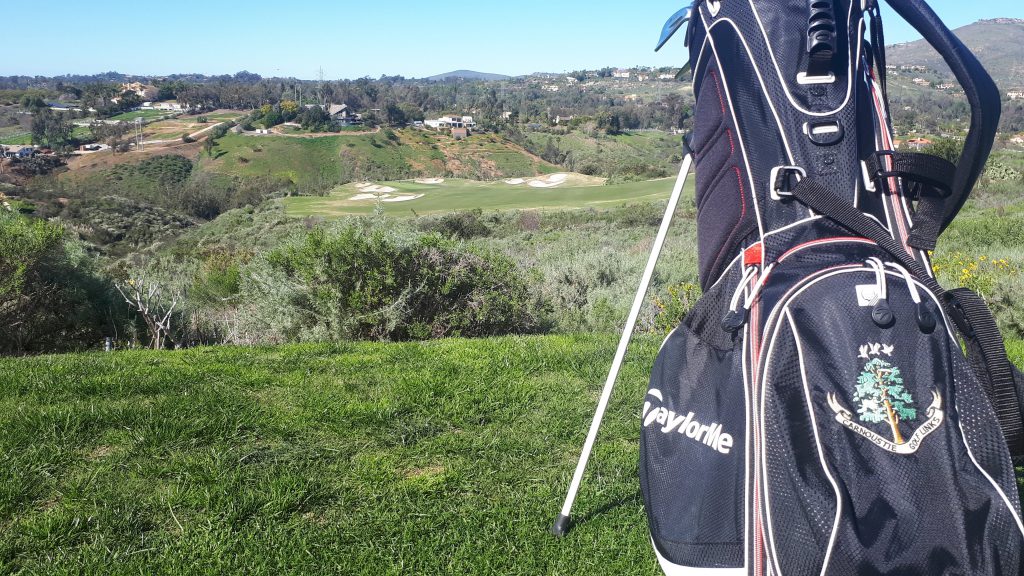 Overall, it was a fantastic experience and I enjoyed getting to know some new faces in the greenkeeping world. The group of guys I was with came from the following courses:
Graham Down Golf Course Manager, Harewood Downs Golf Club
Keith Burgon  Head Greenkeeper, Eyemouth Golf Club
Scott Aitchison  Deputy Course Manager, Royal Dornoch
Craig Earnshaw  Golf Course Manager, Harleyford Golf Club
Stefan Carter  Senior Greenkeeper, Wentworth Golf Club
Peter McVicar  Golf Course Manager, Hesketh Golf Club
Lyle Davidson  Deputy Head Greenkeeper & Head Groundsman, The Carrick / Cameron House
Tom Pattison  Acting Deputy Head, Blyth Golf Club
Yannick Weber  Assistant Superintendent, Cape Kidnappers Golf Course
I would personally like to thank all at BIGGA for allowing myself the opportunity to be a part of what was an incredible experience and Bernhard, who sponsor this trip allowing 10 delegates to go over to the Golf Industry Show each year. The team at Bernhards did a great job looking after us, it's safe to say we were well fed and watered.
Back on these shores, over the months of February and March, there has been plenty of training taking place for the greenkeeping team carried out by Neil Christie, including Excavator 180, Agricultural Tractor, Spraying – Knapsack and Tractor Mounted and Mini Telescopic.
All of these training courses are beneficial in making sure that the right health and safety procedures are carried out by the team when operating machinery.
We also enjoyed a visit from Danny Sommerville from the R&A Rules Department, who took time out of his busy schedule to have a look at our penalty areas on all three courses to ensure they were marked out correctly, in line with the new Rules of Golf.
If you weren't at the Rules Evening with our Professional Keir McNicoll, here's a link to the new rules to keep yourself right: https://www.randa.org/en/rog/2019/pages/the-rules-of-golf
If you are going to The Rookery's Gin Night, maybe I'll see you there and Chef promises me we will be in for a treat. If you haven't booked yourself in for it yet, here's a taster of what to expect: https://www.therookerycarnoustie.com/news-events/gin-dinner-no1/
I've also had a sneak peak of Chef's new menu for the upcoming season, mmm.
There you have it, I hope you enjoyed getting a little insight of what is going off and on the course at Carnoustie Golf Links, speak to you again before the start of the season.