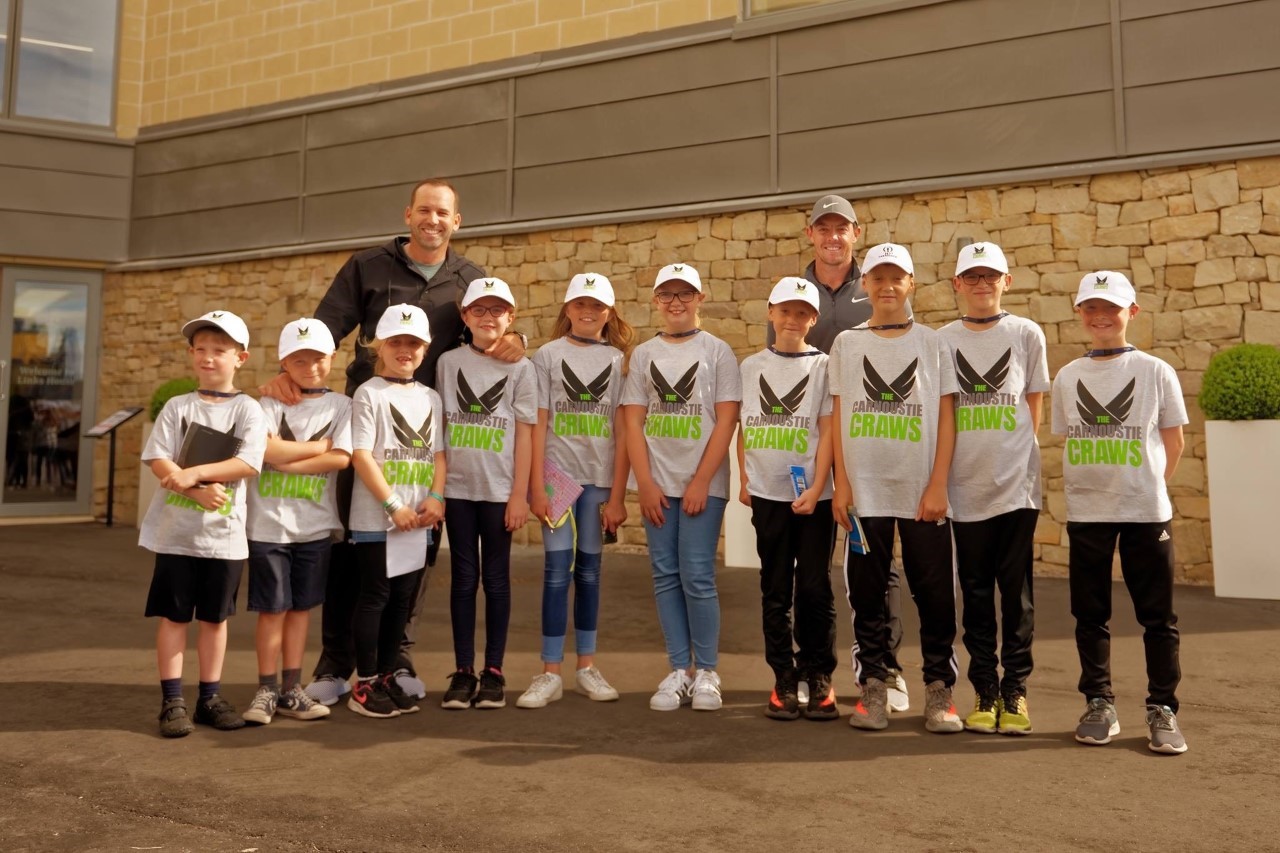 Abertay University and Carnoustie Golf Links collaborate on golf testing programme
Carnoustie Golf Links and Abertay University have launched a Golf Collaboration Project which set out to test the effects of golf on young people.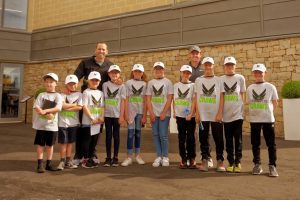 Members of Carnoustie Craws during The 2018 Open Championship with Sergio Garcia and Rory McIlroy.
Over a 6-week period, children who took part in the Carnoustie Craws Programme for Young Golfers were assessed on their golf skills, physical activity, and personal wellbeing.
Testing included physical measurements such as jump performance, back and grip strength, reaction time and balance, as well as personal testing on how the young golfers judged their own sense of belonging, self-esteem, self-confidence, resilience and other factors. All tests were conducted in the facility's Indoor Performance Centre.
Across the testing programme, participants reported an increase in wellbeing across all categories, while three out of four physical tests also showed improved results.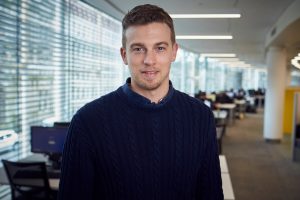 Dr Graeme Sorbie
Dr Graeme Sorbie of Division of Sport and Exercise Sciences said: "These findings demonstrate the positive impact that participation in the Carnoustie Craws programme, and golf in general, can have on children. The testing highlighted that children are not only enjoying playing golf but are improving their personal wellbeing and physical skills at the same time. This shows the great work that Carnoustie Golf Links and their coaches are doing to change perceptions around the game of golf."
Echoing Dr. Sorbie's comments, Carnoustie Golf Links PGA Head Professional Keir McNicoll said: "Golf can and should be enjoyed by everyone, regardless of age. Golf for all encapsulates our core value of inclusivity and we are extremely fortunate to have such a fantastic suite of facilities here at Links House which allows young people to get off to a fantastic start enjoying the great game. Our Carnoustie Craws Golf Programme continues to grow each year and it is great to have this level of validation, through the great work that Abertay have done, that the effort and energy we are putting into the programme is benefitting young children beyond just learning the game."
For more information, or if you are interested in joining the Carnoustie Craws, visit our website at https://www.carnoustiegolflinks.com/junior/.
ENDS
Notes to Editors:
Whilst the Carnoustie Craws Programme for Young Golfers is on hold due to the Coronavirus impact, our current Carnoustie Craws can also continue to practice using their 'My Pathway to Golf App' for a step by step guide to the basics of golf. Our golf courses are currently open so young golfers can continue to enjoy the sport of golf, ahead of the Programme reopening.
Find us: Links House, Links Parade, Carnoustie, DD7 7JE/ www.carnoustiegolflinks.com
About Carnoustie Golf Links:
Most recognised as 'Golf's Greatest Test', Carnoustie's challenging links has a fascinating history which dates back to the 1500s. Ever since then golf has grown at Carnoustie as the small town at the mouth of the Barry Burn has left an indelible legacy on the game around the world.
Carnoustie Golf Links boasts three courses, the Championship Course, Burnside Course and Buddon Links Course. In 2018, Carnoustie Golf Links was awarded Environmental Golf Course of the Year. In 2019 it was named as the World's Best Golf Course at the World Golf Awards and won best overall golf experience at the 2019 Scottish Golf Tourism Week.
The Championship course has hosted The Open eight times, The Women's British Open in 2011 and The Senior Open Championship on two occasions, in addition to hosting The Alfred Dunhill Links Championship annually.
About Abertay University
Abertay University is a leader in sports science, with the University housing two Human Performance Laboratories for physiological measurement and one Biomechanics Lab.
Academic research areas include the art and science of coaching, coaching in the international context, emotion-cognition link in sports performance, high-intensity training and diversity in sport.
Abertay sports alumni go on to high profile positions across the UK and beyond, including those in senior roles at Manchester United, Liverpool FC, Italian Rugby and Tennis Scotland.