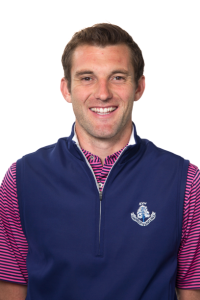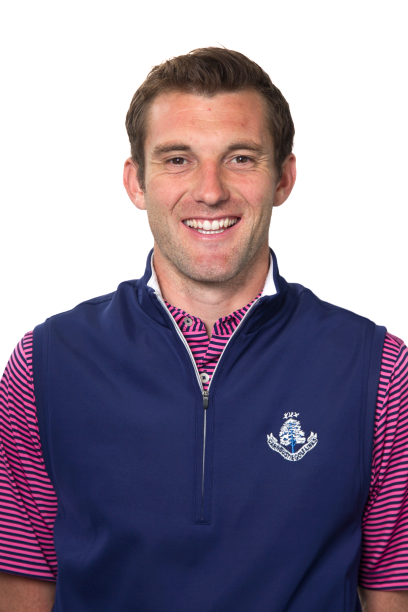 Keir McNicoll – PGA Head Professional 
Keir was born in October 1984 in Carnoustie, Scotland. Growing up in Carnoustie, it was through opportunities and coaching provided by Carnoustie Golf Links that enabled Keir to get into the game. Reaching a handicap of +2 as a 17 year old, Keir took the opportunity to further his career by moving to the USA to complete a golf scholarship at Lynn University in Boca Raton, Florida. After four successful years on and off the course, Keir returned to Scotland with a game that would take him to the very pinnacle of elite amateur golf; winning multiple events, lowering his handicap to a record breaking +6 and representing the Scottish national team across the world.
After turning Professional, Keir took the opportunity to complete his PGA training at Gullane Golf Club where he again showed his commitment and determination, winning the coveted PGA Trainee Of The Year award in 2016. Although still competing in tournaments on the PGA Tartan Tour, Keir's passion is now coaching and as one of the few Level 3 qualified coaches in Scotland, loves to help people improve and enjoy the game. Joining the Professional staff at Carnoustie Golf Links in 2017, Keir brings an energy and passion to help develop the game within the local community.
In 2019, Keir became the PGA Head Professional at Carnoustie Golf Links.
Other interests: Keir enjoys playing golf socially and competitively while still having a passion for football and many other sports. Spending time with family and friends, reading and travelling are his other pastimes.
What's in Keir's Bag?
Driver: Taylormade M5 9.5 degrees
Fairway: Taylormade M6 15 degrees
Utility: Taylormade GAPR #2
Irons: Taylormade P760 3-PW
Wedges: Taylormade Hi-Toe 52, 58 degrees
Putter: Taylormade Spider X Copper
Ball: TP5X
Favourite Course: Muirfield
Favourite Player: Tiger Woods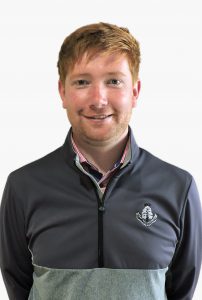 Stuart Milne – PGA Teaching Professional 
Stuart was born in Falkirk in 1992 and introduced to the game of golf by his grandfather at an early age. At the age of 8 Stuart joined his local golf club, Falkirk G.C, and began his golfing journey. Progressing through the junior ranks he represented his club and county whilst playing in national tournaments. At the age of 15 Stuart captained the growing junior section at Falkirk G.C before assisting the local professional in his coaching duties, completing his PGA level one coaching course at the age of 16.
At 18 Stuart moved to Fife to begin his golfing career at Balbirnie Park Golf Club by turning pro and beginning his PGA degree. Involved in an ever growing business, Stuart was exposed to all areas of the golf industry. After completing the PGA training programme and PGA Level 2 coaching award, Stuart's passion for teaching and custom fitting flourished whilst taking on head professional roles at Lochgelly Golf Club and Ballumbie Castle Golf Club.
In the Spring of 2019, after 8 years of being directly involved with the same organisation, Stuart moved on to us here at Carnoustie Golf Links as a PGA Teaching Professional bringing with him vast experience and knowledge in the practical side of the game.
Other interests: Stuart enjoys playing the game socially and competitively in the PGA Scotland ranks. Also has a great love for football and a keen follower of many other sports.
What's in Stuart's bag? 
Driver: TaylorMade M5
Fairway: TaylorMade M5 3 wood
Hybrid: TaylorMade P790 UDI 2 iron
Irons: TaylorMade P760 4-PW
Wedges: TaylorMade High Toe 50, 54, 58
Putter: TaylorMade Spider X Navy

Favourite Course: Royal Dornoch
Favourite Player: Tiger Woods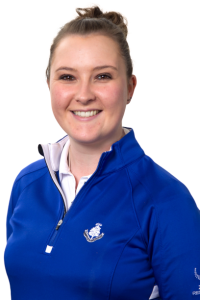 Rebecca Tully, PGA – Head of Merchandise 
Rebecca was born January 1992- hometown Holywood, Northern Ireland. Rebecca began her golfing journey at Holywood Golf Club age 8. She played all her junior and youth golf here representing ladies teams and captaining the junior girls in 2007.
After deciding to pursue a career in golf, she started her PGA training at Holywood in 2011 under Stephen Crooks.
Between 2011- 2013 she continued her training at Scrabo Golf Club and spent a short time at American Golf (Belfast)
Rebecca joined the team at Carnoustie in April 2014 where she completed her PGA training.
In 2019, Rebecca became the Head of Merchandise at Carnoustie Golf Links.
Other interests: Rebecca enjoys playing golf socially and playing new courses, going for walks in the mountains and exploring new places, sightseeing and travelling and enjoys socialising with friends and visiting family back home in Holywood.
What's in Rebecca's bag? 
Driver: TaylorMade M3
3 Wood: TaylorMade M4
5 Wood: TaylorMade M4
Hybrid: TaylorMade M4
Irons: TaylorMade M3 irons 5-PW
Wedges: TaylorMade 50, 54, 60 Hi-Toe
Putter: Odyssey O-Works, 1 Wide
Ball: TaylorMade TourPreferred

Favourite Course: Royal County Down, Northern Ireland
Favourite Player: Rory McIlroy
Nathan Keast – PGA Merchandise Professional
Nathan was born and brought up in Perth. He started golf at the age of 9 and was a junior at Blairgowrie Golf Cub.
After completing high school, Nathan travelled north and studied a BA Golf management degree in Dornoch with the University of Highlands & Islands. During that time he also competed in the Scottish Universities Championships for the UHI team.
Upon gaining his BA Degree, Nathan started his Professional Golf Association traineeship at the Alister MacKenzie designed Duff House Royal in Banffshire where he was based for 5 years. An experience that he will forever remember as his starting point in the golf industry.
Once he became a fully qualified member of the PGA, Nathan moved to work at the exclusive private members facility, Renaissance Club, in East Lothian. As part of his time there he developed the golf operations team, grew the junior golf programme and ran the members annual championships. He was promoted to the role of Head Professional after 2 seasons and oversaw co-hosting the Boys Amateur Championship with neighbours Muirfield, a European Tour Seniors Open and Final Qualifying for The Open Championship. Nathan left Renaissance to work in the merchandise department at St Andrews Links before the opportunity to work at Carnoustie became available.
Other than his time in Scotland, Nathan has enjoyed golfing in the United States, Mexico and the Middle East.
In 2019 Nathan joined the team at Carnousite Golf Links. He is immensely proud to part of such a world renowned golfing landmark.
Other interests: Nathan has an interest in all sports but in particular: Skiing, cycling, tennis and football.  He also has a great passion for fashion and film and likes to spend time with his family & friends when time allows.
What's in Nathan's Bag?
Driver: TaylorMade M5
Fairway: TaylorMade M5 3 Wood
Utility: TaylorMade P790 UDI 2 iron
Irons: TaylorMade P760 3-PW
Wedges: TaylorMade 50, 54, 60 Hi-Toe
Putter: TaylorMade TP Copper Soto
Ball: TaylorMade TPX 5

Favourite Course: Brora
Favourite Golfer: Payne Stewart